Whether you're here for eight days or eight decades, New York will impact you. So show it some respect by making the most of your time! Yes, there are about one billion online listicles called "10,000 things to do in New York in the Next Five Minutes," but does anyone else's brain get overwhelmed by the sheer opportunity and New York bucket lists?
So, let's pare it down to the essentials. Here are five – yes, just five – EASY things to add to your New York bucket list that will help you understand the draw of the city just a little better.
Whether you have a week or a lifetime to complete this list, you can make it happen.
These are our favorite New York bucket list items you need to try – and we promise they're realistic!
Here are 5 NYC bucket list items you need to try before you leave.
Eat At Some of NYC's Legendary Pizzerias
Leave the forks at home and eat a New York slice how it's meant to be enjoyed. If you ask ten different lifetime locals where you can find the best pizza in New York City, chances are you'll hear about ten different restaurants. But we can almost guarantee that as long as you stick to the spots with a local's stamp of approval, you'll be thrilled with your pie.
Here are just a few that you can start with on your journey to establishing your favorite pizza spot:
Joe's Pizza in Greenwich Village – As seen on Spider-Man!
Prince St. Pizza – Something to look at on every wall.
Lombardi's Pizza – boasts of being "New York's First Pizza."
John's on Bleeker – a universal local fav!
And seriously, if you even think about eating them with a fork, we're coming for you.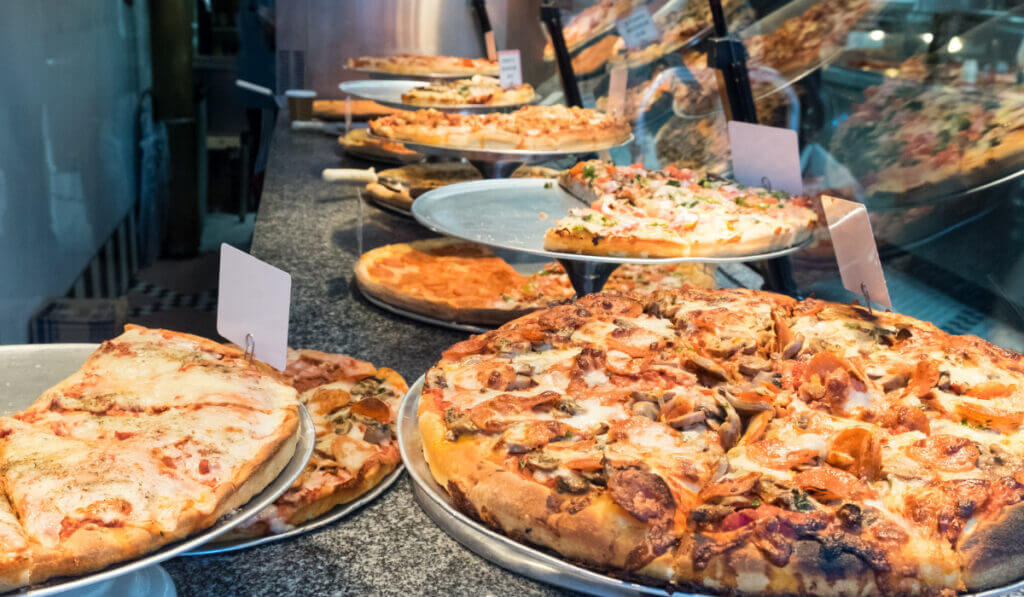 Catch a Broadway Show
This one is a no-brainer. But still, some people have yet to experience a life-changing Broadway show. Many say, "I saw Cats; it wasn't for me." But the rule should be not to knock Broadway until you find a show that moves you. Broadway has come a long way since Cats, from the super shocking and funny Book of Mormon to the Hip-Hop sensation Hamilton. Tons of Broadway and off-Broadway shows will challenge, move, or just show you a great time.
Check out Today Tix for last-minute shows!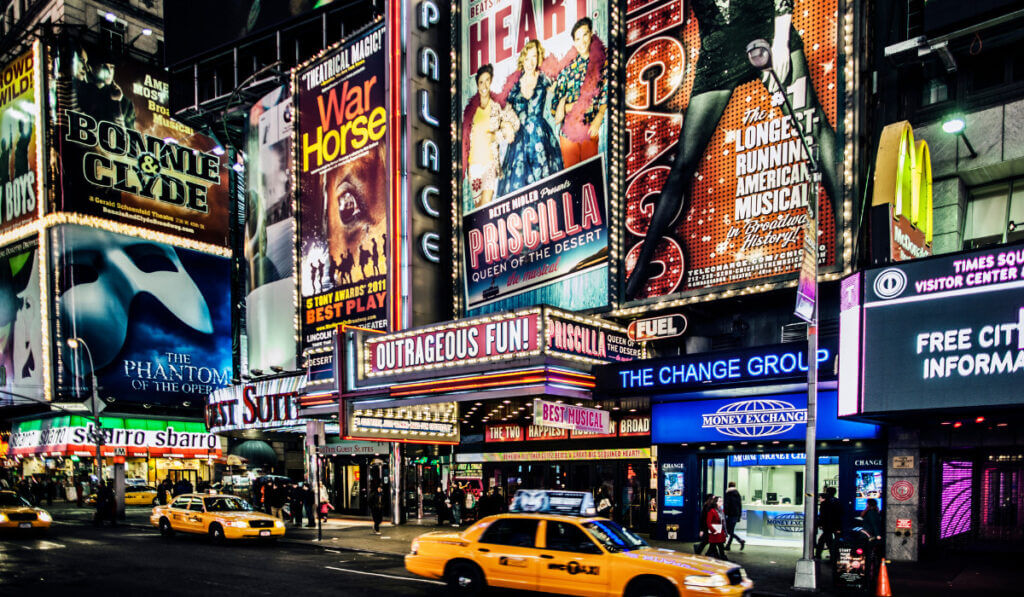 Explore Day Trips Away From The City
One of the most important things you can do in the city is getting out of it. So many people live in or visit the city without venturing into surrounding areas – and we're here to tell you that they are missing out.
Here are some great New York day trips that are easy to incorporate into your social calendar:
Have a Summer River Adventure – Escape the muggy city and cool off in the Lehigh or Delaware River. From whitewater rafting from NYC to Delaware River tubing to our kayaking and wine tour, you have tons of fun activities to choose from.
Go Karting Day Trip from NYC – Whether you're a racing enthusiast, a thrill-seeker, or just looking for a unique day out, we promise an unforgettable experience for everyone.
Go on a Long Island Wine Tour – We transport you to one of the most underrated wine countries in the US for a full day of exploring vineyards, playing yard games and sampling the best bottles of three different wineries.
Pick Apples at an Orchard in Hudson Valley – A super cute fall date idea that will also get you access to the best fall produce, cider, and spiced donuts on this side of the Mississippi.
Have A Snow Tubing and Brewery Day – When you're an adult, you need to establish your own snow days. So here's the perfect way to connect with your inner child! Zoom down some snowy hills and end the day with a stout in hand.
All of these adventures come with transportation, so all you need to worry about is having fun! Check out all of our New York adventures here.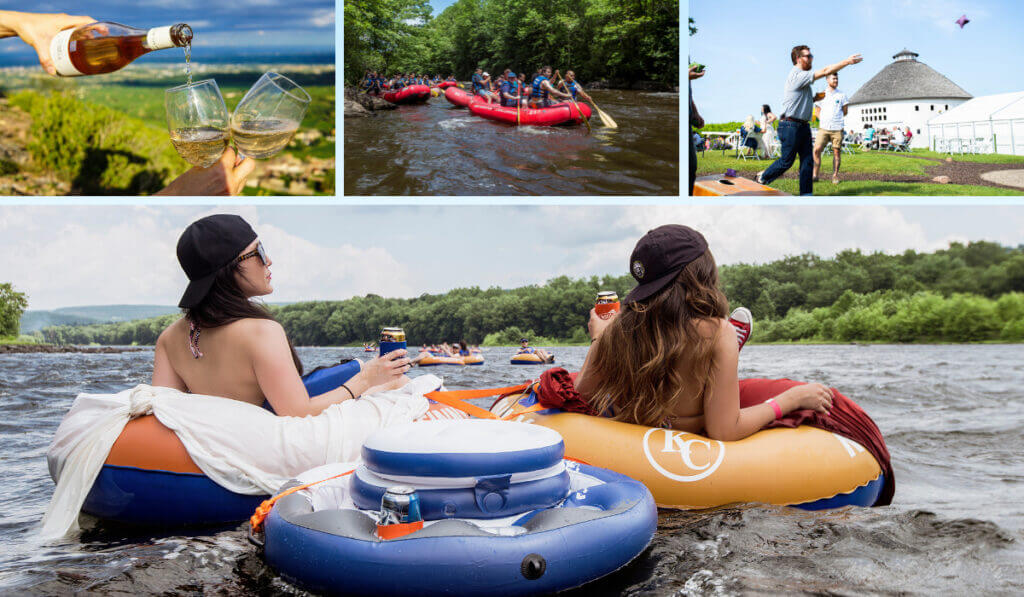 Uncover NYC's Best Speakeasies
New York's best-kept secrets come in the form of cozy speakeasies. Discovering a new creative speakeasy feels like pulling back another layer of the city's mysterious facade to find even more intrigue to chase.
Here are just a few places to start on your journey of mysterious door knocks, secret passwords and hidden entries:
The Woo Woo NYC – hidden behind an adult store, this 80s-themed bar is cheeky to the max!
PS at Pine and Polk – Contrary to what you see, this isn't a trendy grocery store!
99 Franklin – Espresso by day, speakeasy with a hidden patio by night!
Thyme Bar – These drinks are works of art.
Check out a Sporting Event
Our teams may vary in success, but we'll always stand behind them. So show your NYC pride by showing up for your teams! Yankees Stadium will always be an essential rite of passage for locals and visitors, but there is so much more to the NYC sports scene.
There are so many NYC sports to choose from that you can head to a live sports game any week of the year.
In spring, check out Gotham City Women's Football Club!
In winter, cheer on the NY Knicks.
In fall, you have to support the NY Giants or NY Jets. (They both need it.)
In summer, get your fill of basketball with the New York Liberty, or head over to Yankee Stadium or Citi Field to see the Yankees and Mets play ball.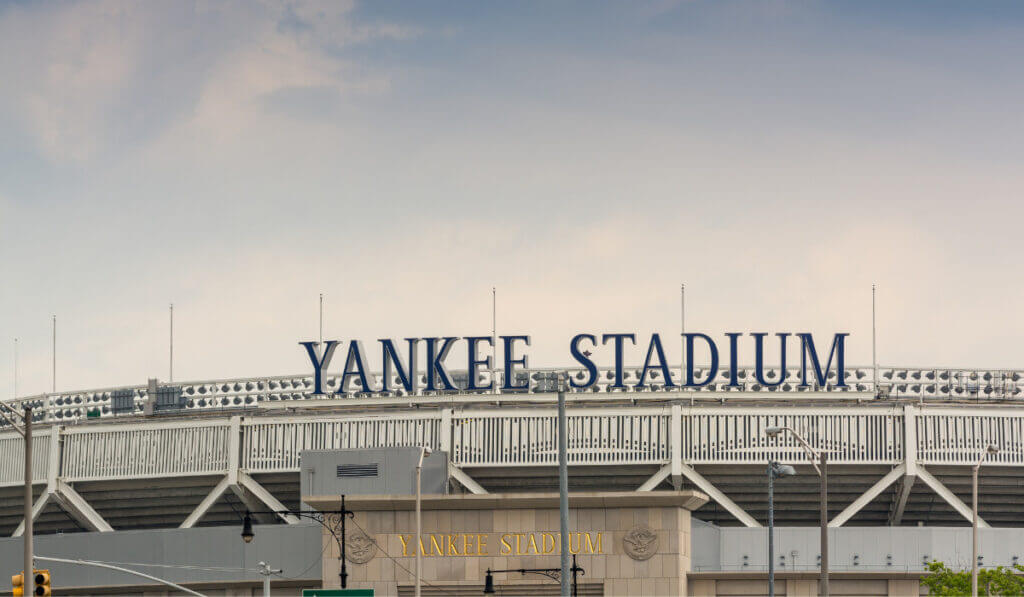 ---
Bonus! April Events To Add To Your Social Calendar:
Get a Free Tree | April 15 – May 31
The New York Restoration Project is giving out 3,500 free trees to New Yorkers across all five boroughs.
Roller Skate at Flipper's Roller Boogie Palace | Starting April 14
This classic skate party returns to Rockefeller Center from April 14 through October. Before Flippers first opened last year, the last time anyone roller-skated here was in 1940!
Georgia O'Keefe Exhibit | Starting April 9
The renowned Georgia O'Keefe Exhibit opens at the Museum of Modern Art (MoMA). Don't miss a chance to see these famous works of art in person.
---
No matter how much time you have in New York, make the most of them! Bookmark this article to find the best NYC activities and New York bucket list items to help you enjoy all that the city offers. If you decide to grab life by the reins and embark on a New York adventure, reach out to our team! We'll save you a spot on one of our buses.