For some employees, the term "team-building activity" has them running for the hills. And we don't blame them! Historically, "unique team building activities" included cringy ice-breaker activities or brownies in the breakroom after work. Um… no thanks. You only get to experience the benefits of team-building events in NYC (boosted employee morale, a refreshed mindset, and renewed work satisfaction to name a few) if you plan a corporate event that your employees will actually enjoy.
We are here to tell you all the fun group activities in NYC as team-building activities. Check out a few of our favorite New York day trips that your employees will love!
Small Group Activities in NYC
Escape An Escape Room
Location: any districts in Manhattan
Best for: year-round indoor fun
Size limitations: under 15 participants
Escape rooms have gained popularity as a unique and engaging team-building activity. Your team can work together to solve puzzles, find clues, and ultimately escape from a locked room.
When a team successfully escapes an escape room, there is a sense of achievement and celebration. It reinforces the idea that collaboration, effective communication, and teamwork can lead to success. The experience provides an opportunity for teams to celebrate their accomplishments together, boosting morale and creating a positive team spirit.
Escape rooms are designed to be exciting and entertaining, making team building activities enjoyable for participants. The immersive environment, challenging puzzles, and adrenaline rush create a memorable experience that encourages active engagement and participation from all team members.
Try your Hand at a Pizza-Making Class
Location: Lower Manhattan
Best for: year-round indoor fun
Size limitations: Up to 24 guests
If there's one thing that can bring planet earth together, it's a love for pizza. Guess what? It can bring your team together too! The Pizza School cleverly advertises its pizza-making workshops as "the ultimate team-building event cleverly disguised as a pizza party."
During this workshop, your team will enjoy great pizza, practice their pizza-making skills and learn trade secrets to making the perfect pie.
If you are ready to experience the benefits of NYC team-building activities, our corporate team-building retreats focus on strengthening communication and teamwork while having a great time. With customizable experiences that cater to your group size and requests, you don't have to have logistical worries during the trip.
Listen To A Performance Together
Location: any districts in Manhattan
Best for: year-round indoor fun
Size limitations: Up to 50 guests
Attending an amazing music performance allows team members to share a unique and memorable experience. They can bond over their mutual appreciation for music, dance, or other forms of live entertainment. This shared experience helps build connections and fosters a sense of camaraderie among team members.
Sharing a memorable experience at a prestigious venue like Radio City Music Hall creates a sense of pride and unity among team members. It instills a sense of belonging and team spirit as everyone feels part of something special. This shared experience can be a powerful bonding tool, improving morale and cooperation within the team.
Outdoor Team Building Activities in NYC
Apple Picking Day Trip
Our Apple Picking Day Trip in the Hudson Valley is the perfect fall team-building activity near NYC if you're looking for a classic autumn-themed afternoon. We provide private transportation from the city for the 1.5-hour drive to a gorgeous orchard during peak apple season. Once you're there, your team can stroll through the orchard and pick some crunchy and juicy apples. After your team snags their fill, they can enjoy some apple cider drinks, spiced donuts and other fall-themed delicacies at the farmers market, cidery, and beer garden.
Each guest can bring home 10lbs of apples, so a fun follow-up team-building activity could be an apple pie-baking contest!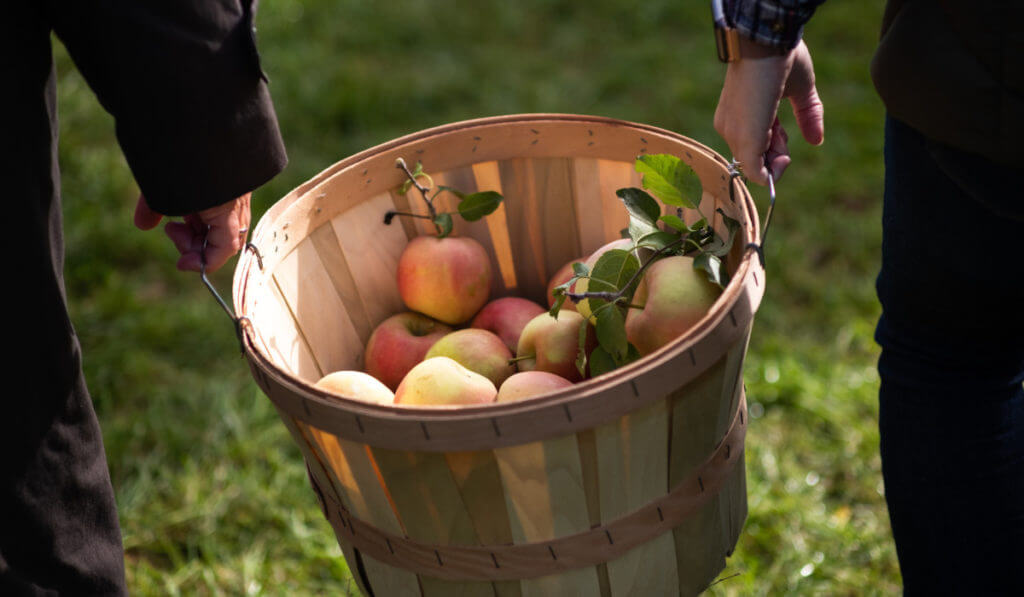 Ski Day with Bus Shuttle
Location: Mountain Creek Resort or Belleayre Mountain (Includes a shuttle from the city)
Best for: A perfect winter team-building activity
Size limitations: 25-100+ participants
Thanks to the chilly weather, winter can be a tough season to plan team-building activities in NYC. But what if you can use that cold weather to your advantage? Our Mountain Creek NYC Ski Trip include bright and early bus transportation to the slopes for a day of powder and beautiful snowy mountain views. We have packages that include transportation, ski equipment rentals, and beginner classes, so both snow sports pros and newbies will have a blast.
If you have unique preferences for your ski day, our team can design the trip around your group's needs! If you're looking for a day trip to the Catskill Mountains, we have a brand new NYC Ski Bus to Belleayre Mountain to check out as well!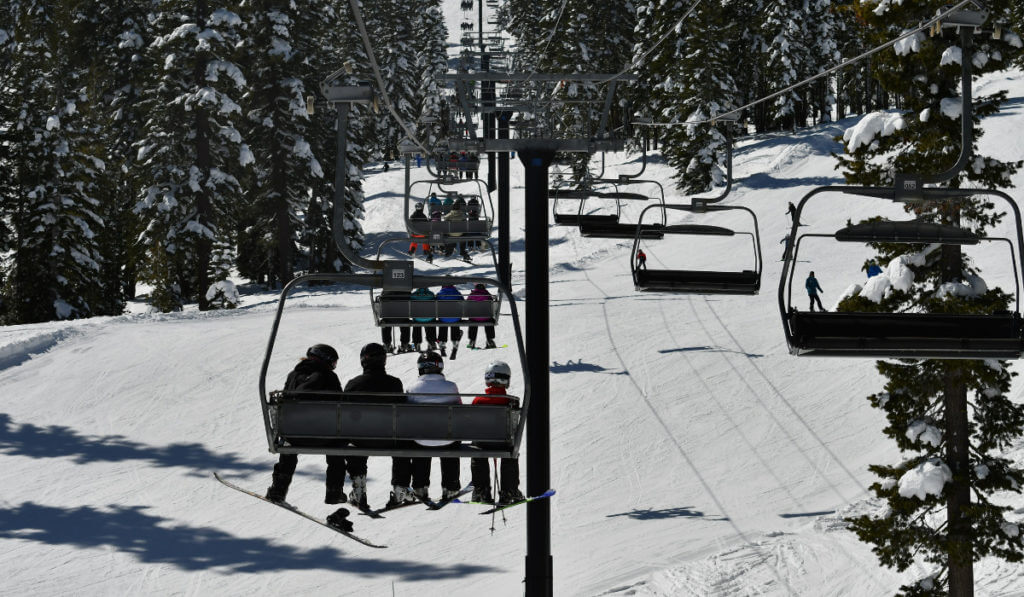 Whitewater Rafting Day Trip
Location: Lehigh River (with a shuttle from the city)
Best for: An approachable, adventurous activity in the summer
Size limitations: 25-100+ participants
Want to plan a casual, fun-packed day on the river? Our Whitewater Rafting Day Trip will hit the bullseye every time. This trip includes a shuttle from the city, experienced guides to navigate through 9 miles of class III rapids, time to take in the river views, a lunch break and a shuttle back to the city.
Only 2 hours from the city, this is the perfect day trip that feels like an escape without having to plan an overnight retreat. If you have unique preferences for your rafting trip, our team can design the trip around your group's needs!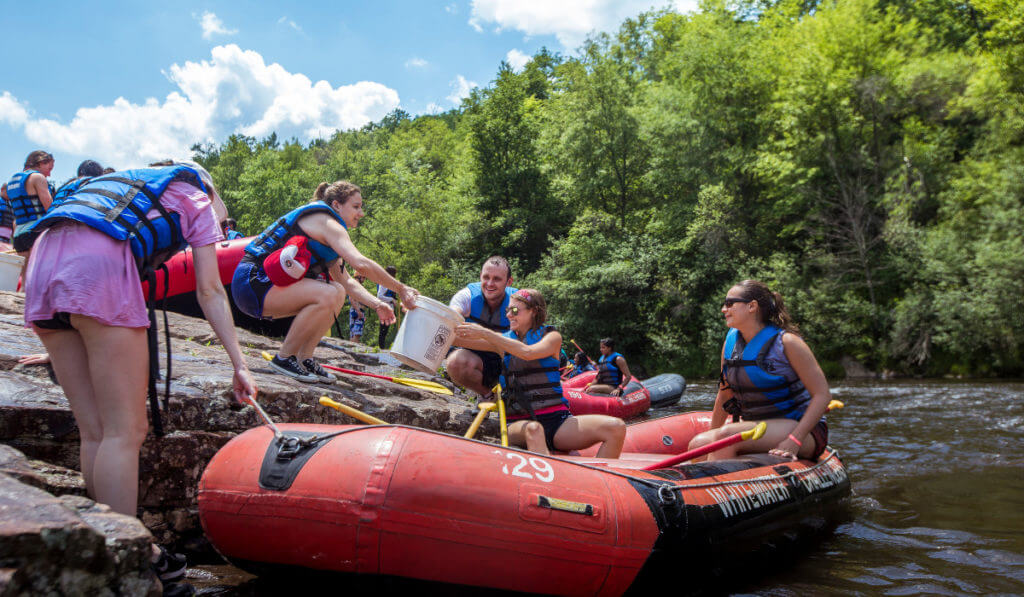 Charter a Boat
Location: Hudson River
Best for: An elegant experience in the city during warmer months
Size limitations: Dependant on the charter company
If you want to step up the glam for an afternoon or evening of fun, a private yacht charter is sure to impress. Several boat charter companies along the Hudson River can offer a voyage full of stunning views, gourmet dining, delicious drinks and private catering staff. Taking in the city skyline by private yacht makes for one of the most luxurious corporate team building activities NYC offers.
Spend A Day In The Ellis Island and Statue of Liberty
Location: Ellis Island
Best for: An relaxing experience in the city during warmer months
Size limitations: up to 100
Visiting Ellis Island and the Statue of Liberty provides a unique opportunity for team members to learn and gain knowledge about the country's immigration history and the ideals represented by the Statue of Liberty. The experience can spark discussions, encourage curiosity, and deepen understanding among team members. Learning together strengthens team bonds and promotes a culture of continuous learning.
We are experienced in a wide variety New York adventures throughout every season. From your arrival to the moment you say goodbye, you and your group will enjoy personalized attention throughout your unique and memorable experience. So reach out to our team to plan one of the most fun corporate team-building activities NYC offers! x