From Michelin Star restaurants to glamorous nightclubs to Broadway classics, NYC is full of city-life adventure you can't get anywhere else. But every once in a while, you feel a pull towards something a bit more adventurous. When that little adrenaline craving grows and grows until you can't take it any longer, it's time to get out of the city and onto a river for some white water rafting near NYC.
Great nature may feel far away when living in a concrete jungle, but don't fret — some great rivers for white water rafting near NYC don't require a plane ticket or a days-long road trip! In fact, these three rivers make for an easy and fun day trip from New York.
Here are our favorite rivers for whitewater rafting that are all under three hours from the city:
1. Lehigh River rafting
2. The Hudson River Gorge
3. Delaware River
---
Lehigh River in the Poconos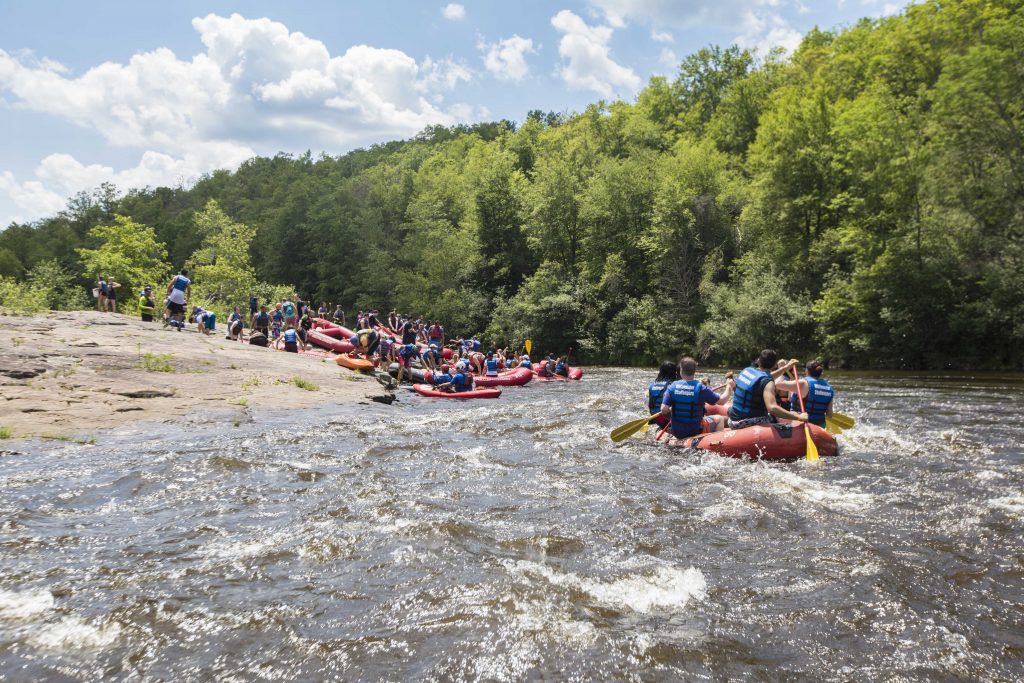 Distance from NYC: 1.5 hours
Best for: Approachable yet exciting rapids, gorgeous Poconos views
Whitewater rafting trips are easy for New Yorkers! White water rafting NYC day trip is available with Sourced Adventures!
Rafting in the Poconos is one of the easiest ways to venture out on some whitewater near NYC. This trip is less than 2 hours away but still feels like a total outdoor escape from the city.
Whitewater rafting on the Lehigh River has a good mix of calm moments to practice paddling with several fun rapids mixed in to keep you on your toes. When you book this white water rafting New York trip, you enjoy 3-4 hours of fun, cruising down over 9 miles of class II and III rapids. Our fun and knowledgeable guides will ensure you have all the info you need to feel confident on the river. We take our time on the river with a lunch break and opportunities to take a safe dip in the river!
The Hudson River Gorge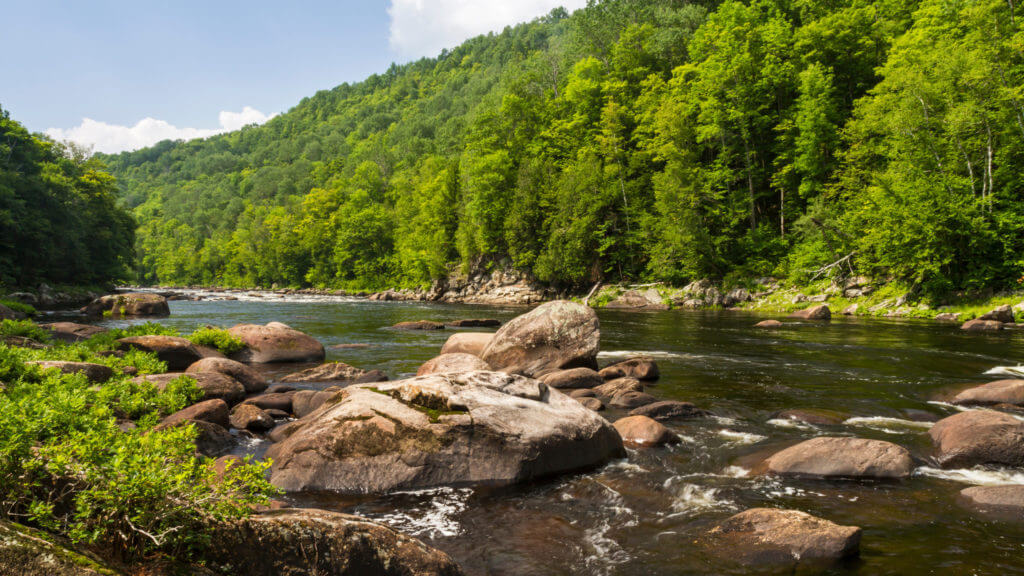 Distance from NYC: Just under 3 hours
Best for: Exciting rapids of all classes
If you only know the Hudson River as the line between NY and NJ, it's time to see it in a new light. This river twists and turns over 300 miles from Lake Tear of the Clouds to the Atlantic Ocean. While the river you may know may seem strictly urban, it only takes a couple of hours to find the wild side of this river.
Talk about an excellent reputation — Hudson River rafting has been deemed one of the top 10 river rafting trips in the United States! Depending on the time of year, you can venture out on drastically different types of rapids. After the initial snow melt of the spring, this river seriously pumps and offers wild class IV and V rapids — great for rafting enthusiasts and adrenaline seekers. In the mid-to-late summer, the same rapids calm down to around classes II and III for more approachable or family-friendly fun.
With views of the Adirondacks as you paddle through exhilarating rapids, you'll have a new appreciation and respect for the Hudson River.
Delaware River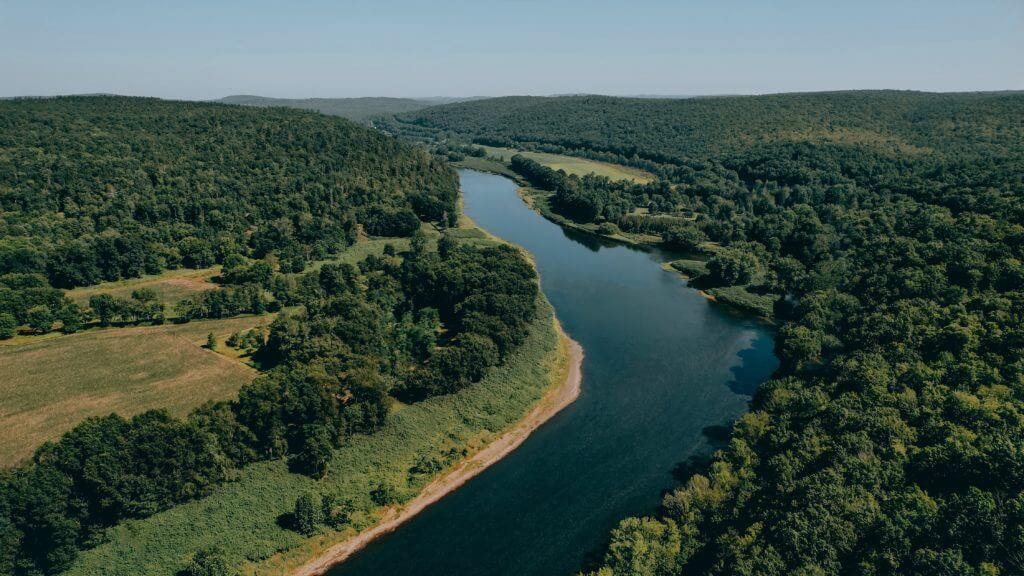 Distance from NYC: Just over 2 hours
Best for: Lazy river tubing
**River tubing day trip or NYC kayak and winery visit available with Sourced Adventures!**
Perhaps you want an escape but prefer to emphasize the relaxation aspect of a river trip. That's when you head to the Delaware River for a day of lazy floating and easy paddling! The Delaware River offers gorgeous views of lush foliage and expansive river scenery and has areas perfect for a leisurely tube float or stress-free kayak trip.
When you book a Delaware tubing trip with Sourced Adventures, we understand what people want from a group river float. So you can bring a waterproof speaker, rent a floating cooler, and create the river party you and your friends deserve.
But the fun doesn't stop there! We are firm believers that a social activity like this deserves an after-party. So once you finish the river float, we head to a riverside BBQ at Cedar Rapids Bar & Grill, right at the river takeout. Have lunch and enjoy a post-float beer or two, knowing that our team takes care of transportation back to the city.
And for those who want to toast to the finer things in life after a river trip, we absolutely recommend our NYC kayak and winery tour. Enjoy a leisurely paddle on the Delaware River and then head to one of our favorite wineries for a delicious tasting with a view. There's no better way to infuse outdoor fun and a luxury winery experience!
From a heart-pumping whitewater adventure to a more leisure river float, you can find a river escape with Sourced Adventures. So head to our website to book your next adventure and start counting the days to your next New York adventure!