We can feel it in the air — it's finally summer in NYC! The anticipation running through the city is palpable as people fill their social calendars with New York summer activities and fun.
Feeling overwhelmed by all of the options? We've got the ultimate bucket list of fun things to do in NYC this summer. From finding some city glitz to escaping the crowded streets for a nature getaway, here are all the best summer activities in NYC and New York Adventures
NYC Bucket List | NYC Summer Events 2023
Try new foods at Smorgasburg
Coined "The Woodstock of Eating," you can satiate your most specific cravings at a Smorgasburg NYC event. Peruse booths featuring classic BBQ, vegan desserts and creative flavors from all corners of the globe. These events are held during summer weekends in Williamsburg, Jersey City, Prospect Park and WTC, so you can choose the one closest to you!
Queens Night Market
When those evening food cravings hit hard, the Queen's Night Market has your back. On summer Saturdays from 5pm to midnight, you can explore over 60 vendors and swap bites of fantastic food with friends.
Catch a foul ball at a Yankee game
If you don't go to a Yankees game, is it even summer in New York? A classic NYC summer activity of enjoying beer, hot dogs and America's national pastime will be fun for MLB fans and baseball novices alike.
Watch Fireworks on the 4th of July
The 4th of July is a day of celebration and patriotism in the United States. In New York City, it is marked by a spectacular fireworks display that illuminates the sky and captivates the audience.
The fireworks display in NYC is typically held near the East River, providing stunning views of the city's skyline as a backdrop. There are some popular viewing spots, including Brooklyn Bridge Park, the South Street Seaport, and various waterfront areas in Manhattan and Brooklyn. These are the best locations to witness the dazzling fireworks against the backdrop of the city's iconic landmarks.
Jazz Age Lawn Party
The Jazz Age Lawn Party is a highly anticipated and unique event in New York City. It celebrates the vibrant spirit and cultural heritage of the Roaring Twenties. This annual party transports attendees back in time to the Jazz Age era, immersing them in the glamorous and lively atmosphere of the 1920s.
The event often features a display of vintage cars, providing a glimpse into the automotive style and luxury of the 1920s. You can find classic automobiles, such as Model T Fords and elegant convertibles lining the premises, allowing people to look at at the craftsmanship and design of the era.
Governors Ball Music Festival
The Governors Ball Music Festival is an annual three-day music festival held in New York City. It brings together a diverse lineup of acclaimed musicians and bands from various genres, offering an exciting and immersive music experience.
The festival takes place on Randall's Island Park, located in the East River between Manhattan, Queens, and the Bronx. The park provides a picturesque outdoor venue with stunning views of the city skyline and ample space for multiple stages, vendor booths, and various festival attractions.
Governors Ball is not just about music; it also incorporates art installations and interactive activities to enhance the overall festival experience. These can include large-scale sculptures, immersive art installations, live painting demonstrations, and interactive photo booths. The festival grounds provide ample space for attendees to explore, relax, and engage with the creative elements of the event.
NYC Bucket List | NYC Adventures 2023
Escape the city for a river adventure
Sometimes the best thing you can do in the city is get out of it!
Hopping on the Delaware River is a summer day trip close to NYC but still feels like an adventure. You can enjoy some lazy Delaware River tubing (with a beer cooler in tow) or a more exhilarating experience like kayaking or whitewater rafting from NYC! Booking a river trip with us is as easy as booking the restaurant you'll enjoy after your river day. Our trips include watercrafts, guides and round-trip transportation, so all you have to do is have a great time.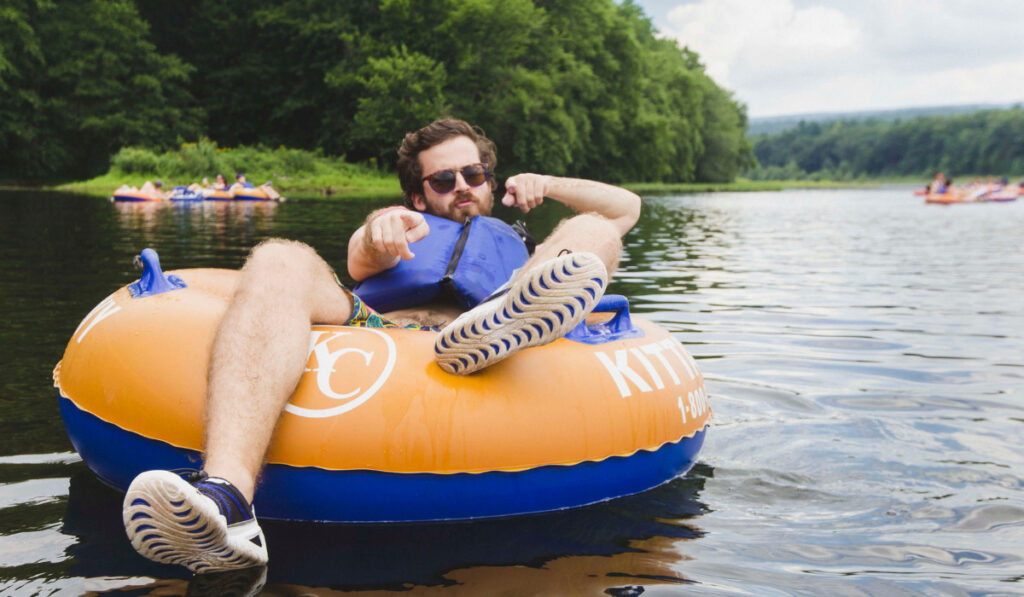 Did you know we have one of the top wine regions in the world, just a stone's throw away from Manhattan? Long Island is full of award-winning vineyards that offer exceptional wines and gorgeous spots to sip and relax. On our Long Island Wine Tour From NYC, you can visit three highly-respected vineyards, learn about the region, and (of course) taste some fantastic wines. These tours come with round-trip transportation, so no drawing sticks on who has to be the designated driver!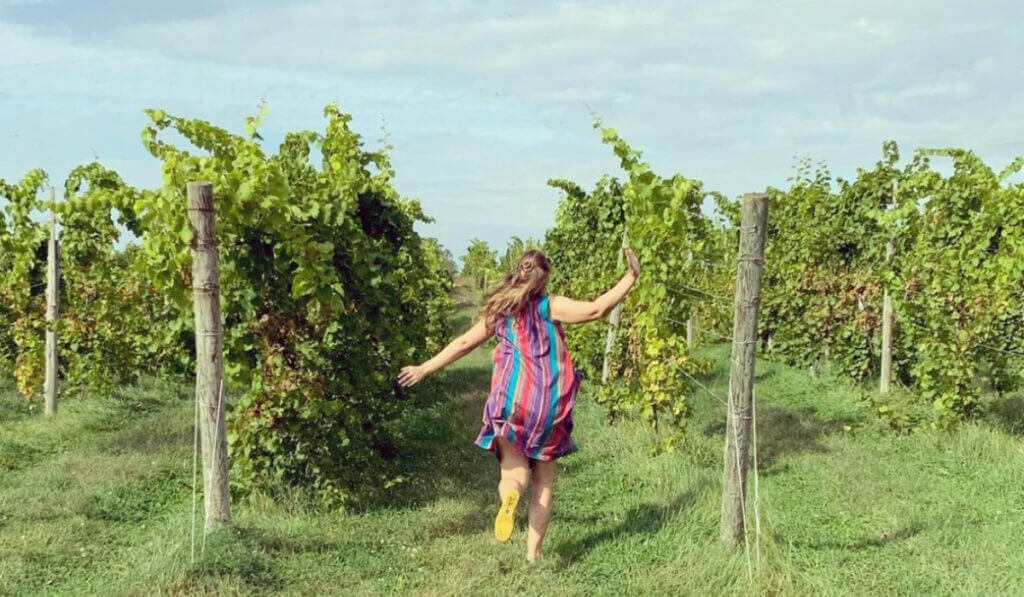 Get out of the city for a glamping trip
If you want to "get away from it all" without needing to sleep on the ground, a luxury glamping weekend is for you. You can find some all-inclusive tranquility in one of New York's hidden-gem nature getaways! Sit around a campfire, play beach games and still feel like you have everything you need to be comfortable.
We recommend Fort Tilden or Governors Island for the ultimate glamping experience!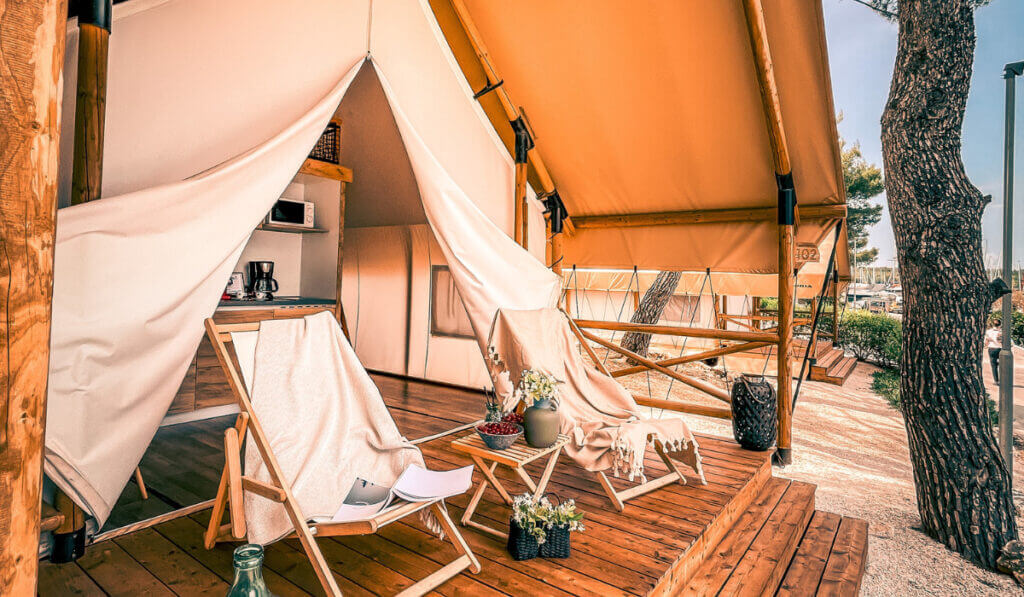 NYC Bucket List | NYC Summer Activities 2023
Grab some oysters and rosé at Grand Banks
Does summer make you crave the sea? Enjoy the views and the tastes of the ocean with a bougie apps afternoon at Grand Banks. This upscale floating restaurant is aboard the historic wooden schooner, Sherman Zwicker. Enjoy romantic city skyline views, sustainably-farmed oysters and award-winning rosés for a perfect summer date or an afternoon with friends.
Enjoy a movie under the stars
A movie night, but make it New York! Outdoor movie nights at Seaport or Rooftop Cinema Club are the perfect mix of going out and staying in. So, bring blankets, get cozy and enjoy some classic films with friends!
Check out a free concert at Central Park's SummerStage
Central Park is in full party mode all summer long with the Summerstage Festival series! With big names like Modest Mouse, Trombone Shorty and Rainbow Kitten Surprise, you can enjoy an entire season of excellent performances.
Embrace the city views from an elegant rooftop bar
You need to take advantage of the warm weather with this iconic NYC evening out. There are tons of rooftop bars scattered across the city, so whether you're looking for casual-trendy or upscale-elegance, you're sure to find a fantastic drink with a view.
Take advantage of free events hosted at NYC parks
The only thing better than enjoying an NYC park? Enjoying a free event in an NYC park! The summer season is packed with free activities to enjoy, from outdoor classic movie nights to live classical music concerts. These events are perfect for a fun night on a budget.
Get cultured with a day of art
Exploring art museums can be a great way to spend a summer day in NYC. The city has some of the world's most renowned museums, including the Metropolitan Museum of Art and the Museum of Modern Art. Art museums provide visitors with the opportunity to immerse themselves in different cultures, time periods, and styles of art. Whether you're a seasoned art enthusiast or simply looking for a new way to appreciate beauty, there's something for everyone at these museums.
Outdoor Yoga and Fitness Classes
Join outdoor yoga or fitness classes held in parks across the city. Many instructors offer open-air sessions for all levels, allowing you to practice yoga, Pilates, or other workouts while enjoying the fresh air and natural surroundings. You can find classes in iconic locations like Central Park, Prospect Park, Bryant Park, and the High Line, as well as in neighborhood parks throughout the city. These outdoor settings offer a refreshing and inspiring backdrop for your practice.
Participating in outdoor yoga and fitness classes creates an opportunity to connect with a community of like-minded individuals. You can meet people who share a passion for health and well-being, fostering a sense of camaraderie and support. Engaging in group activities outdoors often adds a social element to the experience, allowing you to make new friends and forge connections.
Street Art Walking Tours
Take a guided tour to explore the vibrant street art scene in neighborhoods like Bushwick and Williamsburg in Brooklyn. Admire colorful murals, graffiti, and urban art, learning about the artists and the stories behind their creations.
Brooklyn Botanic Garden
Explore the stunning Brooklyn Botanic Garden, home to various themed gardens, including the iconic Cherry Esplanade. Enjoy peaceful walks among blooming flowers, attend workshops, or participate in guided tours.
Start your journey with a visit to the iconic Japanese Hill-and-Pond Garden. Admire the meticulously designed landscape featuring a tranquil pond, bridges, stone lanterns, and lush vegetation. Take a meditative stroll along winding paths, pause to appreciate the serene atmosphere, and perhaps find a quiet spot to sit and reflect.
During the spring season, make your way to the Cherry Esplanade, a breathtaking area known for its stunning display of cherry blossoms. Experience the magical sight of the delicate pink and white flowers in full bloom, creating a picturesque scene. Capture photos, enjoy a leisurely walk, and revel in the beauty of this ephemeral display.
A visit to Coney Island
A visit to Coney Island is a vibrant and exciting experience, offering a mix of classic amusements, beachside fun, and a lively atmosphere.
As you arrive at Coney Island, you'll immediately be greeted by the iconic boardwalk, bustling with activity and the enticing aroma of street food. The boardwalk stretches for several blocks, lined with a variety of shops, restaurants, and attractions.
One of the main attractions at Coney Island is Luna Park, an amusement park that features a range of thrilling rides and classic carnival games. From roller coasters like the historic Cyclone to spinning rides, water slides, and a Ferris wheel, Luna Park offers something for visitors of all ages seeking an adrenaline rush.
---
With all of the unique NYC summer activities to discover, you are sure to fill up your social calendar. If you need help with recommendations, trip plans or escaping the city, reach out to our team! We'll save you a seat on one of our many New York day trips.