Ever wonder why there are so many movies about New York in the wintertime? It may be cold, but this city keeps it spicy with stunning views, endless winter activities and exciting attractions to find.
Planning a trip to NYC this winter? We're here to offer an winter bucket list full of New York adventures!
Whether this is your first time in New York or your 100th, these recommendations will keep you busy throughout the city's chilly yet picturesque winter months. Here is your guide to the perfect New York winter vacation!
Planning the perfect New York Winter Vacation
Classic New York Winter Attractions
Rockefeller Center Christmas Tree
The city's most famous tree in the city's most renowned center? An iconic New York must-see. If you're in the city between the end of November and the first week of January, it'll take a lot of work to avoid this staggering spectacle of branches and twinkling lights.
Radio City Christmas Spectacular with Rockettes
Also available between the end of November and the first week of January is one of the most famous and stunning performances you can find in the city – the Rockettes Christmas Spectacular! And for the Big Apple, that's saying something. Running annually since 1933, this magical event is the pinnacle of a classic holiday season in the city.
Central Park in Winter
Don't overthink it – a simple stroll through the winter magic of Central Park may be your favorite memory of the trip. With several secret snow-covered wonderlands to discover and fewer crowds to navigate, winter is an incredible time to spend a chilly afternoon in the park. Just remember some hot chocolate for the trip!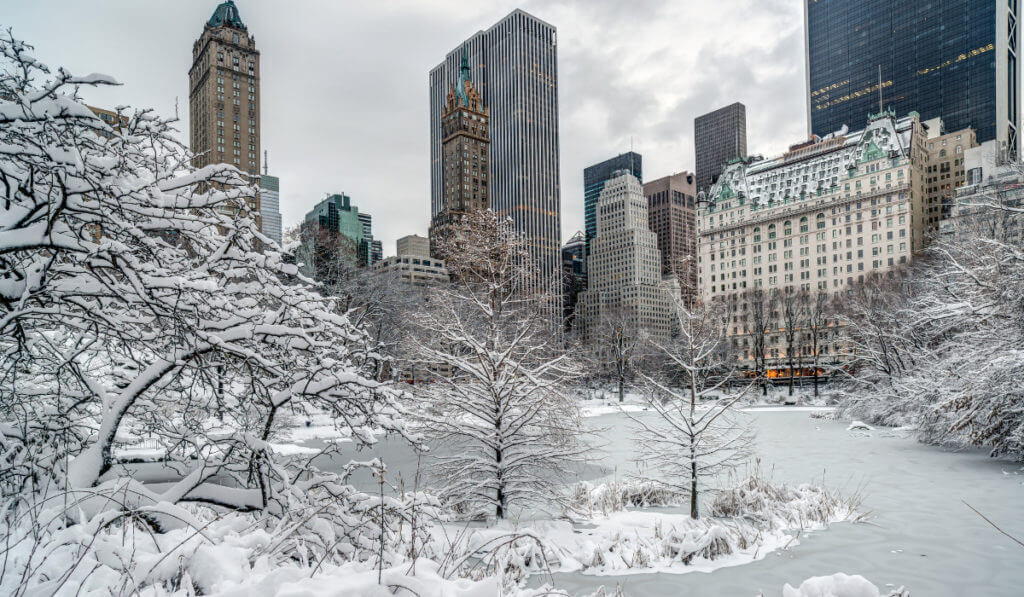 See a Broadway Show
Yes, Broadway shows are available year-round. But there is something extra special about dawning a cozy winter coat and heading out for an evening of world-class singing and dancing talent. Check out all of the shows available this winter here!
Ice skating at Bryant Park
You have tons of space to cover in this 17,000 sq. ft ice skating rink! From Olympic-level skaters to people spending more time on their bottoms than their feet, there is endless people-watching and fun to enjoy on the ice.
Exciting New York Winter Activities
NYC Snow Tubing & Brewery Day Trip
Local Adventure: NYC Snow Tubing & Brewery Day Trip
Want to break free from the concrete jungle for an afternoon? A day of tubing offers the perfect fun-filled escape. Slide down the snowy hills of Mountain Creek for two hours of winter excitement, and warm up in-between runs at one of the bonfires you can find at the bottom of the mountain.
After you get your fill of the slopes, we'll hop on a bus and head to Pennings Farm for a cozy dinner and drinks in their greenhouse-turned-winter beer garden paradise. Have all the fun you want because you have a confirmed DD with our bus ride back into the city!
This year's trip starts in January – reserve your spot early to land your perfect weekend adventure. It's certainly the most convenient (and fun) snow tubing near NYC.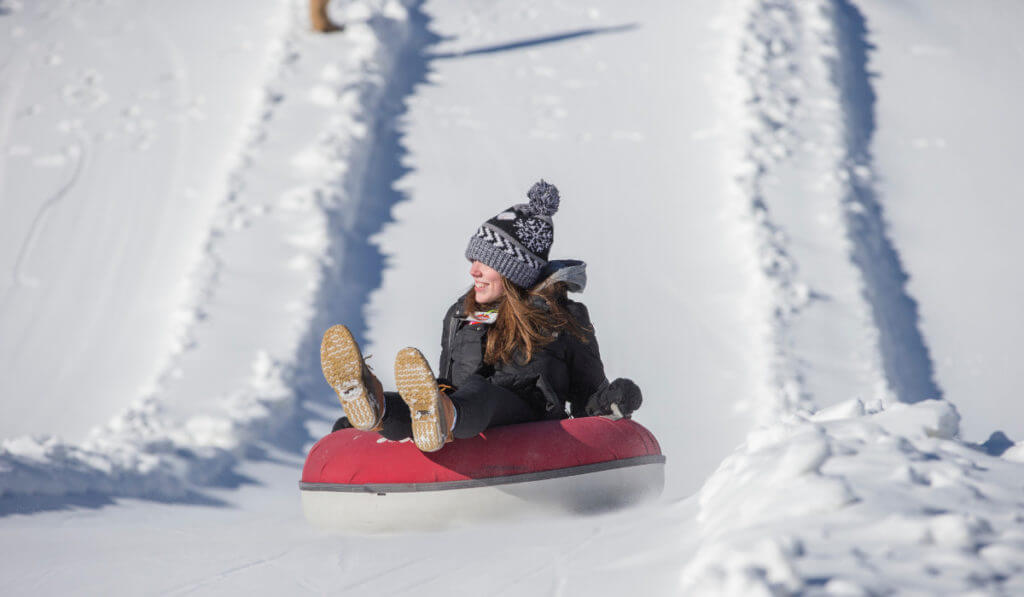 Mountain Creek Snow Bus from NYC
Local Adventure: Mountain Creek Ski Trip from NYC
When you're in the city, a great day of skiing can feel so close, yet so far away. Luckily, the our NYC ski trip can connect ski fans with the best slopes near the city in the blink of an eye! There is no need to find a pricey Uber or scramble to borrow or rent a car. You don't even need to scrounge around for ski gear! Our tours can get you everything you need to have a fantastic day shredding some pow.
Whether you're a newbie who wants a learn-to-ski package or just want lift tickets and rentals, you will have a guaranteed ride to and from the mountain. So, all you need to do is dawn your warmest clothes for a fun snow day!
PS: if you're looking for a day trip to the Catskill Mountains, we have a brand new NYC Ski Bus to Belleayre Mountain! You don't want to miss this adventure.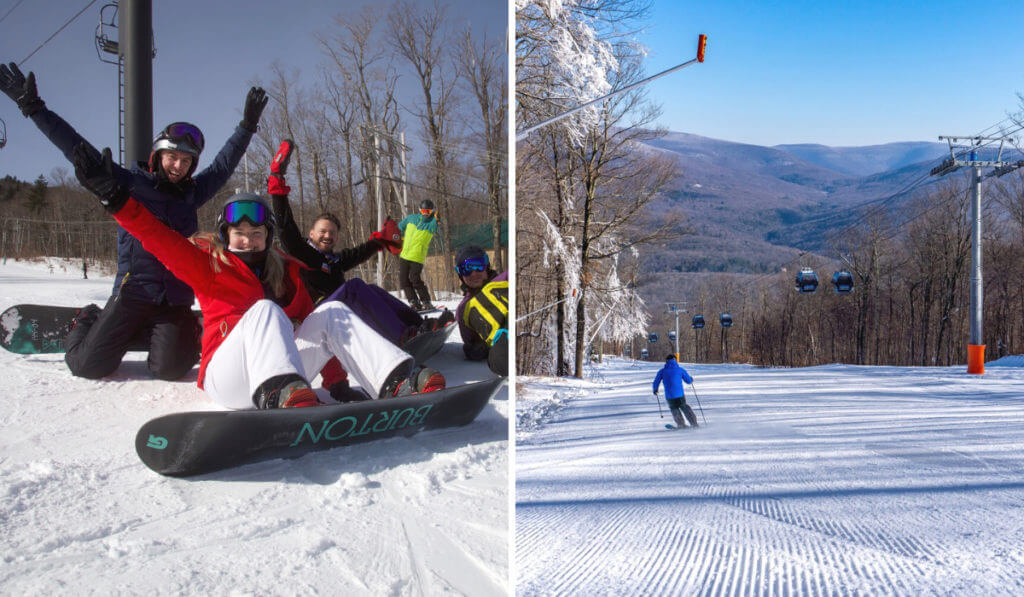 Hidden-Gem New York Indoor Must-Sees
Brooklyn Indoor Flea Market
Escape the cold to sort through some unique antique gems! From November to March, Brooklyn Flea moves indoors and rebrands as the Brooklyn Flea Winter Market. This way, you can stay warm as you find your next favorite piece of clothing, jewelry or decor!
Restaurant Week
Don't miss out on the fun of Winter Restaurant Week, which takes place January 17-February 12. You can keep an eye out for special events, pop-ups, deals and more that keep your body warm and belly full.
Watermark Winter Wonderland at Pier 15
Dine outside without shivering with the heated dining domes at Pier 15! Enjoy a delicious food & beverage menu, including cheese fondue, s'mores or weekend brunch. In closing, there's no wrong time to visit the greatest city in the world. New York is magical during the winter, and we can't wait to take you on an adventure!
If you need help with New York day trip recommendations, trip plans or escaping the city, reach out to our team! We'll save you a seat on one of our many NYC outdoor activities.