Wineries In Long Island
Long Island is located in southeastern New York. It is home to a thriving wine industry that has gained international recognition in recent years. This 118-mile-long island has over 60 wineries and vineyards, each with its own unique character and charm. Whether you're a wine enthusiast or just looking for a relaxing wine tasting NYC weekend, Long Island's wineries can be a great experience for you.
The North Fork: A Wine Lover's Paradise
The North Fork of Long Island is known for its picturesque landscapes, fertile soil, and maritime climate. Those can make a perfect combination for producing world-class wines. There are more than 40 wineries in the region, and visitors can indulge themselves in a variety of wine tastings tours. Notable wineries in the North Fork include:
Bedell Cellars is a family-owned winery. Established in 1980, Bedell Cellars offers an array of award-winning wines, including Chardonnay, Merlot, and Cabernet Franc. The winery features a beautifully restored 1919 barn and an outdoor pavilion with breathtaking views of the vineyards.
Founded in 1991, Pellegrini Vineyards is known for its premium quality wines and scenic setting. Visitors can enjoy tastings of their signature blends, such as the Vintner's Pride Chardonnay and the Encore Cabernet Franc, while walking through their 14-acre estate.
As the name suggests, Sparkling Pointe specializes in sparkling wines made using the traditional méthode champenoise. This elegant winery offers a selection of bubbly delights, from their flagship Brut to the vibrant Cuvée Carnaval Rosé.
Established in 1978, Lenz Winery is one of the oldest wineries in the region. Located in Peconic, Lenz Winery is committed to producing high-quality wines that showcase the region's distinct terroir. Their Merlot, which has been compared to top Bordeaux wines, is a must-try.
Nestled along the shores of the Long Island Sound, Raphael Winery is an elegant, Mediterranean-inspired estate founded in 1996. With a focus on sustainable farming practices, Raphael Winery cultivates a variety of grape types, including Merlot, Cabernet Franc, and Sauvignon Blanc. Their signature wine, the La Fontana, is a robust, Bordeaux-style blend that has earned critical acclaim. Additionally, their Riesling and Rosé of Pinot Noir are perfect choices for those who prefer lighter, more refreshing wines.
During the warmer months, guests can enjoy tastings on the outdoor patio. The combination of stunning architecture, lush landscapes, and expertly crafted wines make Raphael Winery's tasting rooms a must-visit destination.
Established in 1991, this 90-acre estate is known for producing an extensive selection of award-winning wines that showcase the distinctive terroir of the area. With a commitment to quality and sustainable farming practices, Osprey's Dominion has become a beloved fixture in the Long Island wine community.
---
The South Fork: A Taste of Coastal Elegance
Although the South Fork is primarily known for its stunning beaches and luxurious Hamptons lifestyle, it also hosts a handful of exceptional wineries. Here, you can enjoy a more intimate wine tasting experience, as the South Fork of Long Island is home to fewer wineries than its northern counterpart. Some of the region's most beloved wineries include:
Established in 1988, Wölffer Estate Vineyard is a 55-acre winery nestled in the heart of the Hamptons. Their wines, crafted by esteemed winemaker Roman Roth, reflect the region's unique terroir. Be sure to try their acclaimed Rosé, Summer in a Bottle, or indulge in their sophisticated red blends.
Located in the picturesque village of Bridgehampton, Channing Daughters Winery is renowned for its small-batch, artisanal wines. The winery offers a diverse portfolio of wines, including the refreshing Scuttlehole Chardonnay and the rich Mosaico, a blend of six grape varieties.
With locations in both Water Mill and Southold, Duck Walk Vineyards has been a staple in Long Island's wine scene since 1994. Their flagship Blueberry Port, crafted from wild Maine blueberries, is a must-try, as well as their noteworthy Pinot Meunier and Pinot Noir.
Sourced Adventures' Long Island Wine Tasting Tours From NYC
For visitors to New York City, a trip to Long Island's wineries offers a delightful escape from the bustling urban landscape. Just a short drive or train ride away, you'll discover a world of Long Island vineyards, exceptional wines, and breathtaking scenery that rivals some of the world's most famous wine regions. If you have a large group visiting, check out our private trip and get a private trip quote here.
There are plenty of Long Island winery tours but Sourced Adventures' Long Island Wine Tour is definitely your best choice for a Long Island Winery tasting tour from NYC. offers round-trip transportation from NYC, boxed lunches, and a visit to 3 award-winning north fork wineries. It's wine tour packages are the best and most affordable day experience from the NYC. The wineries we will visit are Lenz Winery, Raphael Winery, and Osphery's Dominion.
Lenz Winery's Tasting Room
The main tasting room at Lenz Winery boasts an elegant, rustic design, featuring exposed wooden beams, stone accents, and large windows that provide ample natural light. The room's warm and inviting ambiance encourages guests to relax and savor their wine selections.
In addition to the main tasting room, Lenz Winery offers a charming outdoor patio area, where guests can enjoy their wines while taking in the stunning views of the surrounding vineyards. The patio provides an ideal setting for a leisurely afternoon of wine tasting, complete with comfortable seating and shaded areas for respite from the sun.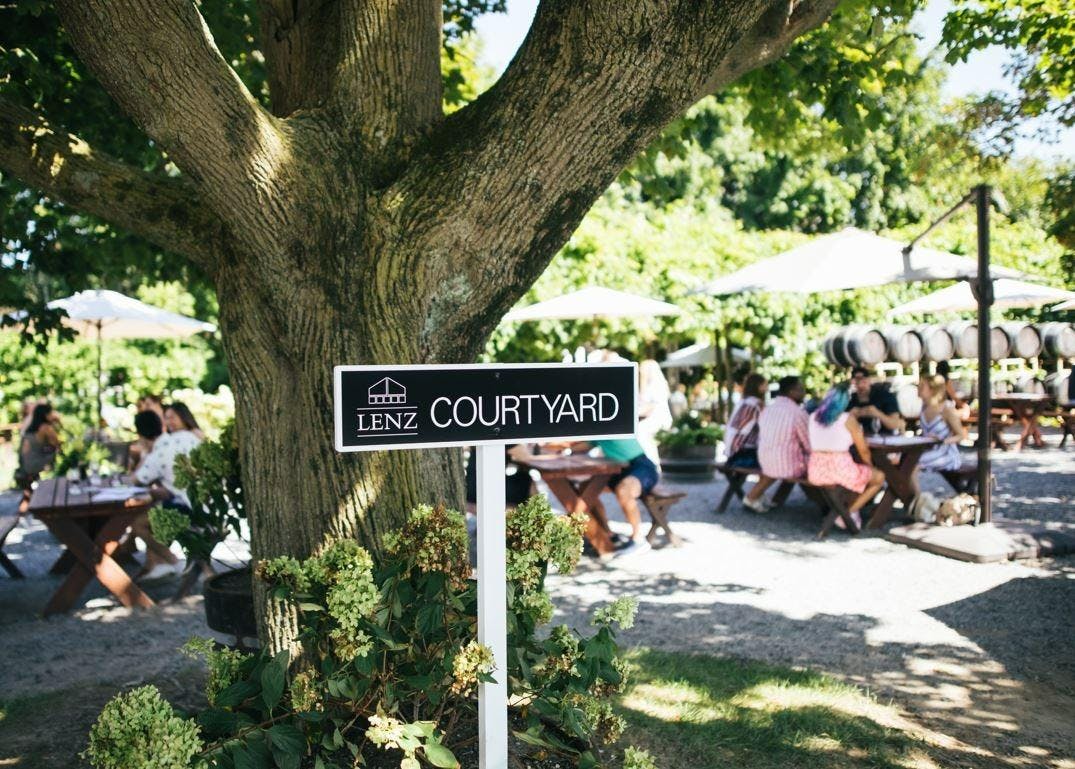 Raphael Winery's Tasting Room
Raphael Winery's tastings rooms are designed to provide visitors with an immersive wine tasting experience. As you enter the winery, you'll be greeted by a stunning, Mediterranean-inspired estate, complete with archways and a barrel-vaulted ceiling that adds an air of sophistication to the space. The main tasting room has warm and earthy tones. You can sip on Raphael's exquisite wines while taking in the beautiful vineyard views.
Besides the main tasting room, Raphael Winery offers a variety of intimate spaces for private tastings and events. The winery's knowledgeable staff will always guide you through their diverse wine selection and share insights into the wine-making process.
During the warmer months, guests can enjoy tastings on the outdoor patio. The combination of stunning architecture, lush landscapes, and expertly crafted wines make Raphael Winery's tasting rooms a must-visit destination.
Osprey's Dominion's Tasting Room
The winery's tasting room has a rustic charm, featuring exposed wooden beams and a cozy fireplace that creates an inviting atmosphere. Guests can sample a variety of wines, ranging from classic varietals like Cabernet Sauvignon, Merlot, and Chardonnay to unique blends and lesser-known gems such as their Carménère and Pinot Gris. Their staff is always eager to guide you through their diverse portfolio and help you find the perfect wine to suit your tastes.
In addition to the main tasting room, they offer an outdoor area. Visitors can savor their chosen wines and take in the tranquil sights of the vineyards.
In the warmer months, the estate is full of life. Live music, lawn games, and picnic areas make it perfect for a day out with friends and family. Osprey's Dominion Vineyards is a must-see destination in Long Island's wine region. It boasts captivating wines, a friendly atmosphere, and a picturesque setting.