It's a classic Sunday Funday. Or Thirsty Thursday. Or Wines-day. Or maybe, it's just a good ol' fashioned Saturday. No matter the reason (or the day of the week), an NYC day drinking adventure will always hit the spot.
We all have our favorite haunts that will always be there when we need them. But every once and a while, it's exciting to try something new. So if you are looking for an New York day trip with a little adventure and a few tasty drinks mixed in, this is the list for you!
Here are all of our favorite NYC day drinking excursions you need to keep in your back pocket for a fun daytime activity.
Best Day Drinking NYC Has to Offer
Long Island Winery Tour
Sourced Adventures Trip: Long Island Winery Tour
Visiting some world-renowned wine country makes a day of drinking feel a touch more elevated and refined. And our Long Island Winery Tour from NYC is the most convenient way to take on this classy NYC day drinking activity. With transportation to and from the city and a great guide to take you to three beautiful wineries, you can take full advantage of the vineyard bounty with no stress about how you'll get back home.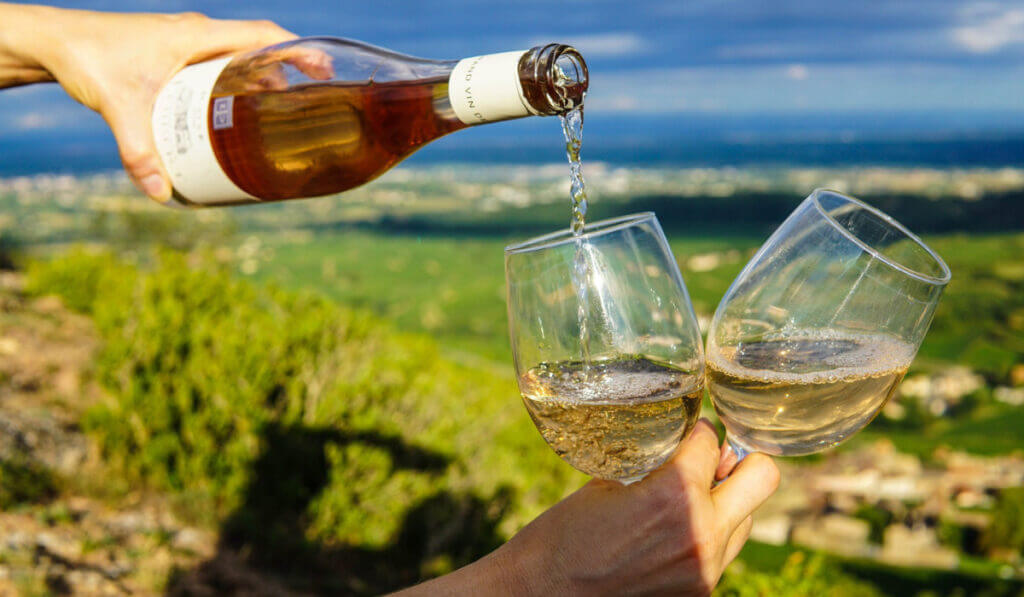 Snow Tubing + Brewery Bus
Sourced Adventures Trip: Snow Tubing and Brewery Bus
Fun day drinking doesn't have to stop when the first snowfall hits – especially on our snow tubing and brewery bus adventure! So bundle up in your warmest snow clothes and find your inner child speeding down a snowy hill on cushy tubes. You'll enjoy two hours of raucous snow tubing and then have dinner and drinks in a greenhouse-turned-winter beer garden at Pennings Farm.
If you're looking to be more active, check out our NYC Ski Trip to Mountain Creek or our NYC Ski Bus to the Catskills! Both have epic lodges to enjoy for your après-ski.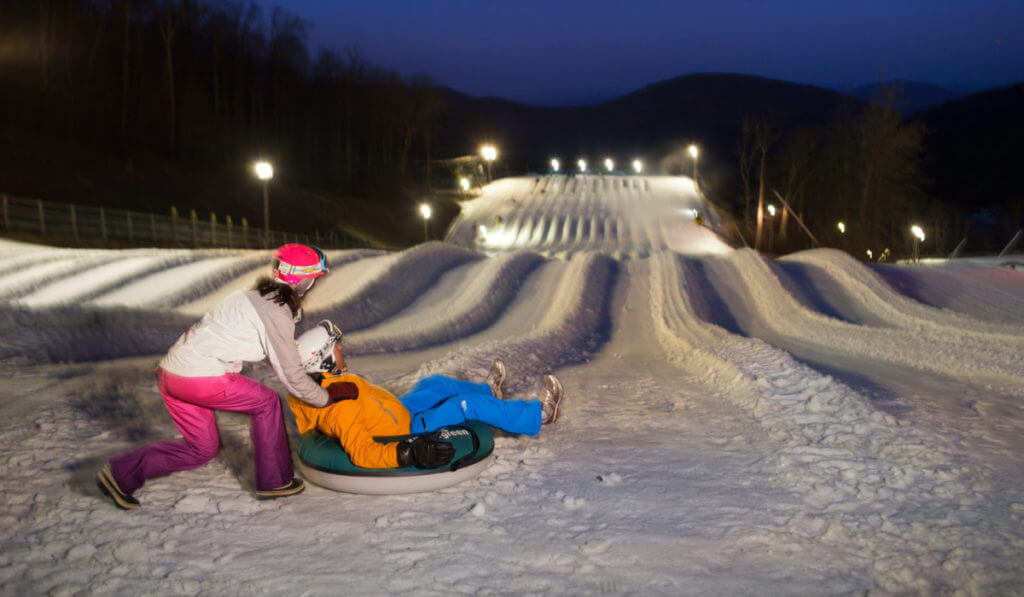 North River Lobster Company
Seafood lovers, this one's for you. If you're looking for a creative NYC day drinking experience to enjoy during spring or summer, get on the water with the North River Lobster Company. These one-hour and two-hour Hudson River cruises take you on a scenic trip with drinks and world-famous lobster rolls. With huge outdoor decks, it's a great way to see the sunset over the city skyline with a cold drink in hand.
Kayak and Wine Day
Sourced Adventures Trip: NYC Kayaking & Wine Tasting
Want to take a little escape out of the city for a unique and exhilarating day-drinking excursion? Get the best of both worlds on a kayaking adventure bookended with a winery visit. The Delaware River is a short scenic bus drive from the city and offers the perfect relaxing kayak trip with pristine river views. After, you can enjoy a picnic lunch and a winery visit at one of our favorite local wineries for some delectable pours of award-winning wines.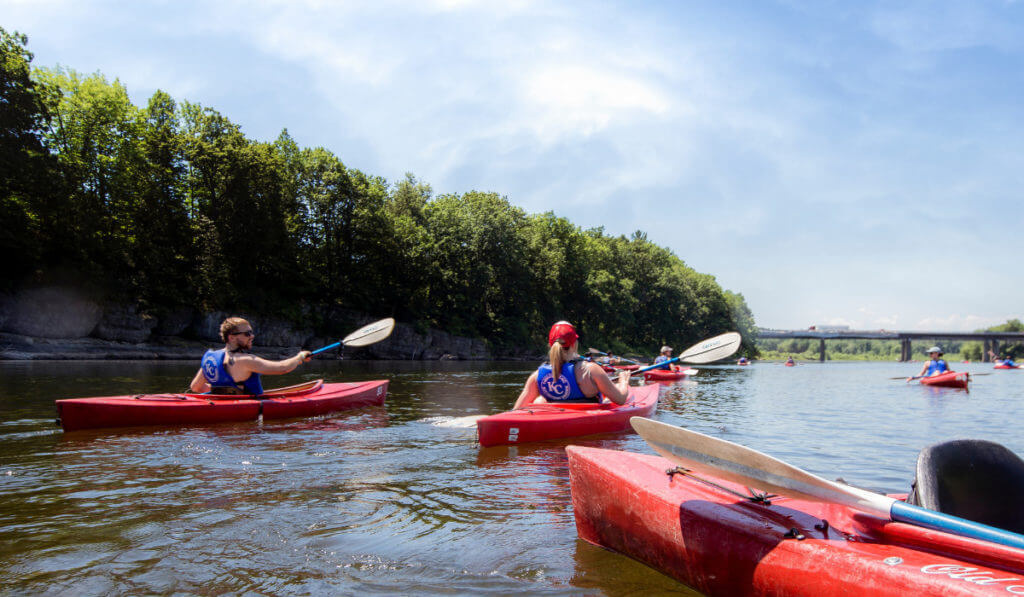 Island Oyster
Get trendy tropical vibes in your NYC day drinking adventure with Island Oyster. This stylish hot spot offers a gorgeous outdoor atmosphere for fruity cocktails, fresh oysters and tons of cute photo ops.
Bohemian Hall and Beer Garden
If you want to mix a bit of the city's history into your NYC day drinking afternoon, head to the oldest beer garden in New York — Bohemian Hall. With a distinct year-round Oktoberfest atmosphere, this venue is always packed with fun. From live music to sports events to the annual Christmas market, you'll have a blast at any event they host.
Tubing Day Trip
Sourced Adventures Trip: Best River Tubing Day Trip
The best part about a summer NYC day drinking trip on the river? Your cooler of drinks can come along for the ride! With floating cooler rentals and planned transportation two and from the city, you can't plan an easier way to get a little buzzed while floating down a lazy river. Our trip starts with a 2-hour river tubing experience and ends with a mouthwatering riverside BBQ meal at Cedar Rapids Bar & Grill right at the river takeout.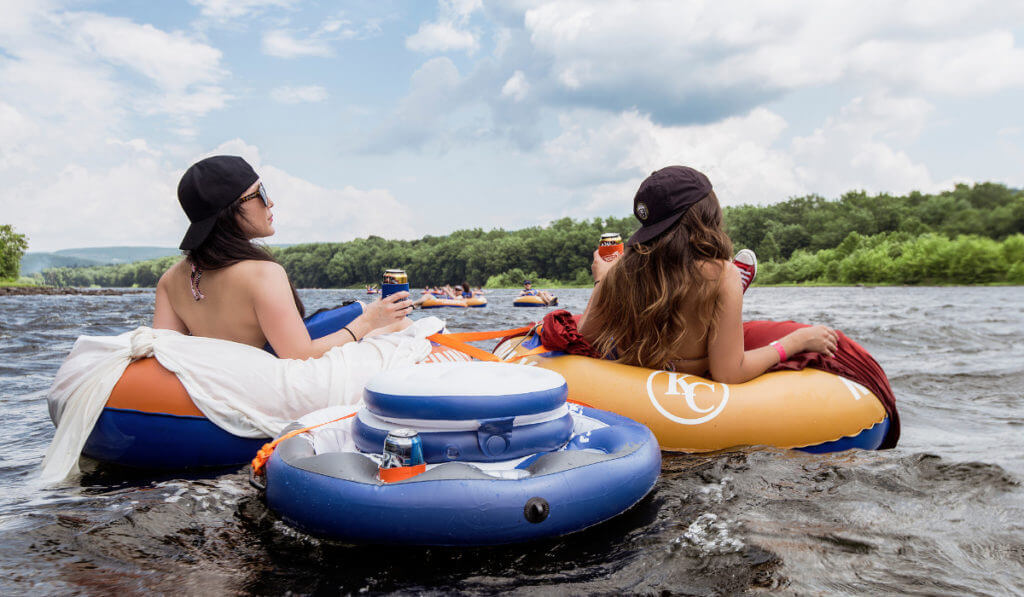 Rooftop Bars
Want to keep your NYC day drinking classic, timeless and traditional? A rooftop excursion will never disappoint. Here are a few of our favorites around the city:
Night of Joy: Transport back in time to this gorgeous bar with an antique feel.
The Heights Bar & Grill: Come hungry — this approachable spot is known for big portions of food and drinks.
Pod 39 Rooftop: The stunning architecture of this rooftop bar is the main character, but the tequila options and tacos also pack a punch.
With all of the unique day drinking NYC offers, you are sure to fill up your social calendar with Margarita Mondays, Tequila Tuesdays and more.
If you need help with recommendations or escaping the city, reach out to our team! We'll save you a seat on one of our many New York adventures.