East coast skiers are hearty and unspoiled as a rule of thumb. Living in a part of the USA where the weather is wildly variable and where the tectonic plates are nowhere to be found can make for challenging conditions. East coast skiers have to be adaptable to all terrain type and are forced to make due with whatever mother nature decides to drop on them. Which is often not alot.
Despite all of this, the draw for east coast skiing is still amazing! It's a great place to learn how to ski and also to challenge yourself on trails that would be closed out West. And if you're looking for a convenient way to get your east coast skiing in, look no further than Mount Snow.
There are some pretty impressive resorts farther North, but they take some serious effort getting to. Mount Snow is a great mountain because it offers a bit of everything; convenience from urban centers like NYC, wide trails perfectly suited for beginners, challenging terrain on its North Face, and a festive base area with solid bars and food. Plus, in comparison to other Southern Vermont mountains like Stratton, Mount Snow is a steal! Cheaper lift-tickets for roughly the same vertical.
Whether you're a novice or a pro, Mount Snow should be a must on your hit-list if you're on the East Coast. Here are our tips and tricks for having an epic weekend:
Where to Stay:
Ski weekends can have drastically different vibes depending on what you're looking for. We have two great options below for those who have money to spend and those traveling on a budget:
Grand Summit
For those who are looking for a more posh stay, look no further. The Grand Summit Hotel at Mt Snow has convenience, with location right on the mountain allowing for ski-on ski-off access. The hotel also boasts a fitness center and swimming pool along with a variety of rooming options to suit any group size. Ultimately this is a quality resort if you're looking for an upscale experience with convenience.
Snow Lake Lodge
If you're on a budget the Snow Lake Lodge is the perfect place to shack up with a few friends or your significant other. The hotel is located right on Snow Lake (obviously) and boasts beautiful views of the mountain. It's only a 5 minute walk to the Sundance Base Area and also has access to the MOOVER (see below). Hot tub and sauna are available and breakfast is included. It's nothing fancy but will serve you perfectly for an affordable stay on a ski weekend to Mt Snow.
Getting Around
Whether you stay at one of the hotels mentioned above or a B&B in Dover, it's good to know all the ways to get to the mountain.
MOOver
The most convenient way to get around from different base areas or hotels. The MOOver is unmistakably spotted black and white (like a cow), and a free transfer service for getting around Mt Snow. On weekends the MOOVer starts running at 7am and operates every 15 minutes between 8am – 5pm.
Where to Eat
It's easy to find food on the mountain with a plethora of cafeterias and restaurants right on the hill. But what about dinner? Here are a few tried and true favorites sure to give you the ski fuel you need for the next day on the hill.
1900 Burger
Located right at the foot of the main base area and open until 8pm on Fridays and Saturdays, 1900 Burger is the perfect place for Apres-ski and dinner. With delicious burgers and a great beer selection, the restaurant will fill you up after a calorie-burning day on the snow.
Cuzzins Bar & Grill
Named "Best Apres-ski bar" by USA Today, Cuzzins is a great place to grab dinner after a day of skiing or to try out a local microbrew. With live music on the weekends, Cuzzins has a festive environment to keep things lively.
Nightlife
While Mount Snow and Dover, Vermont are not the epicenter of the nightlife universe, there are still some great places to go out and have a good time.
The Snow Barn
If you're looking for a late night spot with cheap beer, good food and live music look no further. Located right next to the Snow Lake Lodge, the Snow Barn is the perfect roadhouse sure to satiate all night owls. Fridays and Saturdays frequently feature local bands, and if you're lucky they might play some covers of your favorite classics.
What to Ski
It's easy to talk about all of the great amenities available at Mount Snow, but we'd be remiss to forget about the excellent skiing. While Mount Snow is no Jackson Hole, it still offers a good variety of terrain no matter what sort of skier you are in close proximity to NYC.
The North Face
If you're an experienced or expert shredder, you'll be spending the vast majority of your day at the North Face. And with good reason. Mount Snow can get jam packed on the weekends, so the pro move is to get to The North Face ASAP and stay there as long as you can. This will help you avoid long lines and get the most skiing in. Easily accessible from the summit, The North Face offers all expert terrain (black diamonds) and with 2 lifts, they make it easy to lap runs over and over again.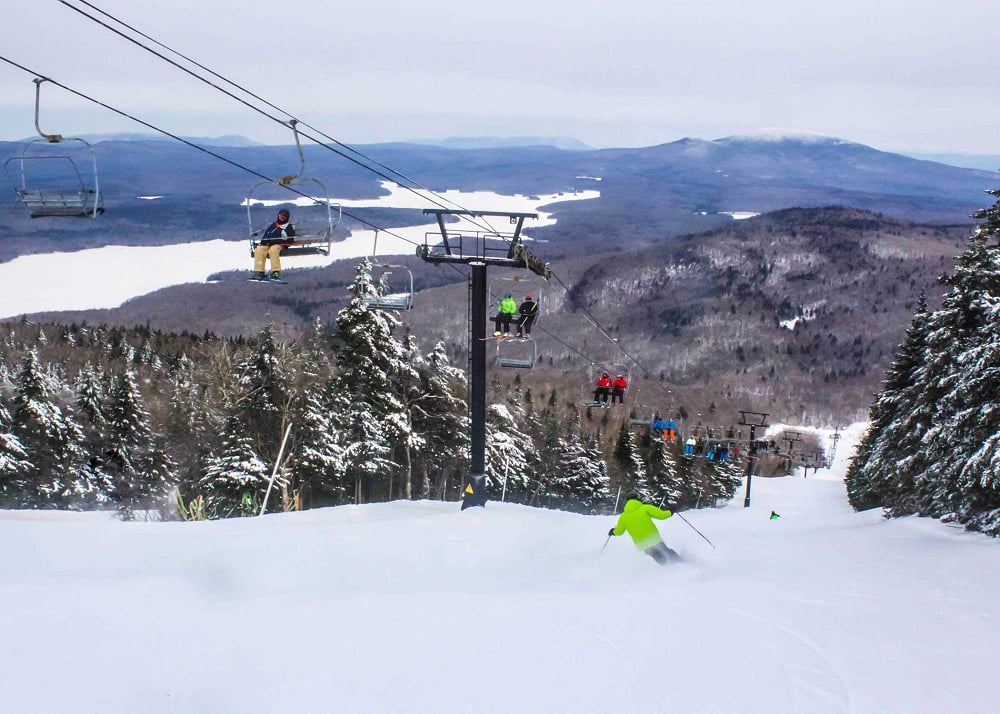 Carinthia
Park rats rejoice. Your prayers have been answered. Carinthia is named as one of the best Terrain Parks in the world year after year and for good reason. What was once an entirely separate ski area has now been made into a series of massive terrain parks, together called Carinthia. With a wide variety of features and rails, Carinthia offers something challenging for everyone and makes it easy to progress your skills. Get ready to send it!
Bluebird Express
The summit lift that serves as the vanishing point in Mount Snow's mise en scene is worth a few laps. While it can be packed on the weekends, the Bluebird gives you perfect access to every run on the mountain, and flies you up to the top at breakneck speeds. The lift is so posh they have leather seats and a bubble that make you feel like you're in a limo. Our recommendation is to wait until the crowds die down and then lap this chair at the end of the day.
Sunbrook
The most overlooked face at Mount Snow has some hidden gems well worth checking out. The Darkside of the Moon glades have some great nuggets and features and this side of the mountain is frequently empty. If you're looking to fix your need for some serious bumps, make sure to check out Bear Trap…which is especially prime on Spring days.
Verdict?
Mount Snow may not have the expansive terrain of West Coast skiing but what it lacks in size it makes up for in convenience. With a seriously close location to NYC there aren't many other resorts in the area that can compete. The mountain has plenty to offer all different types of skiers and riders, and are some of the best snowmakers in the world. A necessity when dealing with the mercurial East Coast weather. Plus the resort has a plethora of great dining and housing options which make your time off the hill excellent too. If you're looking for a New York day trip look no further.
Don't have access to a car?
Sourced Adventures many New York adventures with round-trip transportation included from Manhattan. Check out our NYC Snow Tubing and Brewery Bus and Mountain Creek Ski Bus from NYC.