Do you remember the joy of waking up to a snow day? It meant having the entire day to enjoy winter activities. That feeling doesn't have to be lost forever! Winter weekend trips from NYC will be definitely a great help.
You can have a fun winter trip with friends by leaving your apartment and planning a snowy adventure. Leaving the apartment in cold weather is difficult, but the winter wonder outside the city is worth it. Put on boots, beanies, and mittens.
Here are our favorite winter weekend getaways from NYC and New York adventures that may freeze your fingers but will definitely warm your heart. Cabin fever adventures in the winter can also be fun!
Best New York Winter Getaways
From NYC: Tubing & Brewery Day Trip
Local Adventure: NYC Snow Tubing & Brewery Day Trip (We name it as the best winter getaways from NYC!)
Find your inner child again with a day of tubing on this winter trip from NYC! Enjoy two hours of winter fun at Mountain Creek or Campgaw Mountain, zooming down snowy hills and taking breaks by bonfires.
After you get your fill of snow tubing, we'll hop on a bus and head to Pennings Farm for dinner and drinks in the cozy ambiance of their greenhouse-turned-winter beer garden. Go ahead and have that second or third drink because you have easy bus transportation right back to the city.
Our 2023/2024 tubing and brewery trip starts in January – reserve your spot early to land your perfect weekend adventure! It's certainly the most convenient (and fun) snow tubing near NYC. It is one of the most relaxing and warm winter getaways from NYC.
Tip: Looking for winter getaways from NYC for families? Book this family-friendly trip now!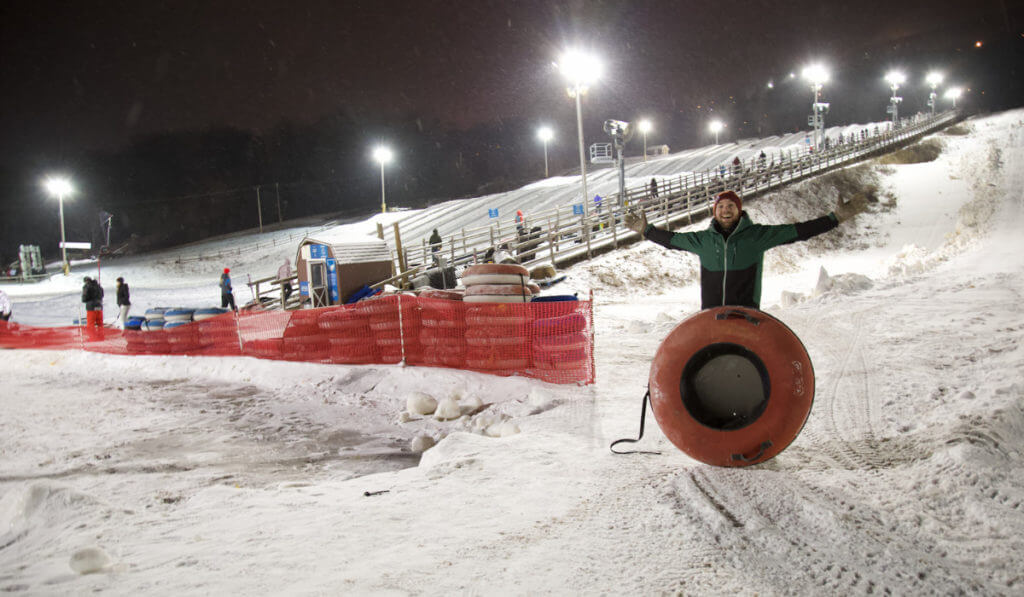 From NYC: Shred Some Powder
Local Adventure: NYC Snow Bus to Mountain Creek & NYC Snow Bus to Belleayre Mountain
Skiing and snowboarding are popular winter activities and one of the greatest winter weekend getaways from New York for New Yorkers. The Sourced Adventures snow bus offers a convenient way for snow lovers to reach Mountain Creek or Belleayre Mountain. These destinations provide a day of fun on the slopes.
Whether you are a newbie who wants to learn the ropes with a learn-to-ski package or just want the lift tickets and rentals, you will have a guaranteed ride to and from the mountain. So, all you need to do is dawn your warmest clothes for a fun powder day! It's time to book your NYC ski trip to Mountain Creek or our NYC ski bus to the Catskills!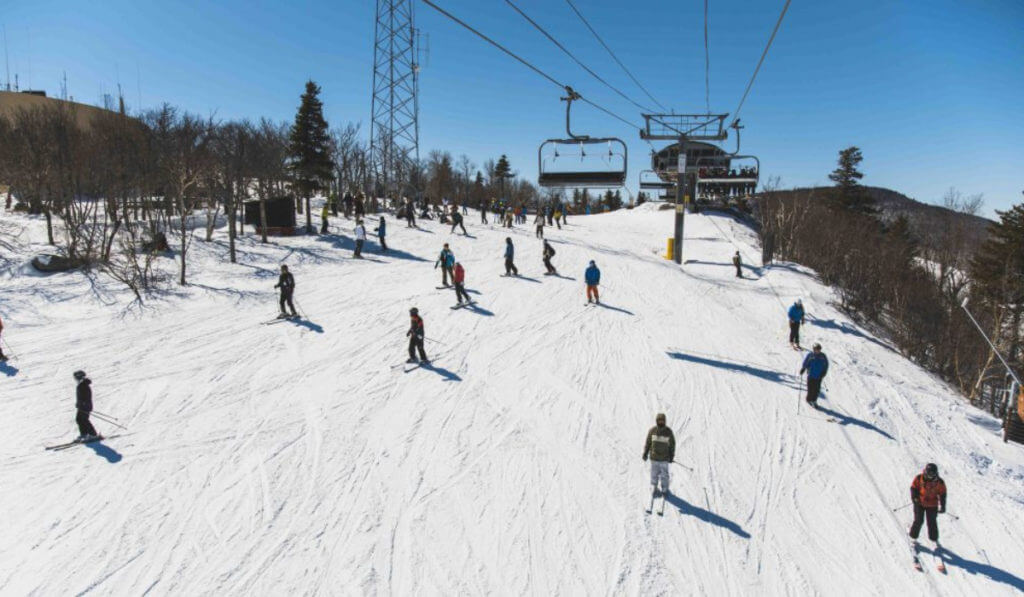 Enjoy a Spa Day In Outdoor Saunas & Pools
Yes, a day in the snow can be exciting and fun. But every once in a while, you need to forget the outside world exists. A spa day is your ticket to bliss when you want to escape in winter getaways near NYC without a passport. Immerse yourself in the tranquil ambiance of outdoor saunas and pools, creating a unique and invigorating experience.
QC NY Spa at Governors Island: It is a new spa that opened in 2022. It offers 20 wellness experiences like foot baths, infrared beds, and saunas. In addition to all the indoor offerings, two outdoor pools capitalize on the location with panoramic views of the Manhattan skyline.
The Gideon Putnam Resort and Spa is just under four hours away, but it feels like a new world. With lodging available, fantastic dining options and an endless list of services, you can plan for multiple days of pampering.
Tip: Outdoor saunas and pools offer numerous health benefits. The heat from the saunas promotes detoxification, boosts circulation, relaxes muscles, and relieves tension. Soaking in hot outdoor pools can help with muscle pain, make joints move better, and help you relax.
Go Winter Glamping
Think that glamping is only fun in the summer? Think again! Some fantastic luxury cabin getaways near NYC will make for a warm and cozy winter weekend.
Winter glamping offers a unique opportunity to experience the beauty of nature while enjoying cozy accommodations. Imagine retreating to a snug and well-appointed tent, cabin, or lodge nestled in a winter wonderland. Stay warm with plush blankets, crackling fireplaces, and heated amenities, creating a cozy haven amidst the chilly outdoors.
You can find the ideal cabin that meets your needs, from waterfront views to hot tubs to rustic cabin luxury.
Plan a Snowshoe Adventure
If you want a calming outdoor adventure, you don't have to travel far for a magical stroll through snow-covered trails. Hiking is one of the most chill winter weekend getaways in NY. There are several hidden spots around the Hudson Valley to discover by snowshoe.
Here are just a few you can explore:
So bundle up in your warmest layers to step through the quiet tranquility that winter trails provide!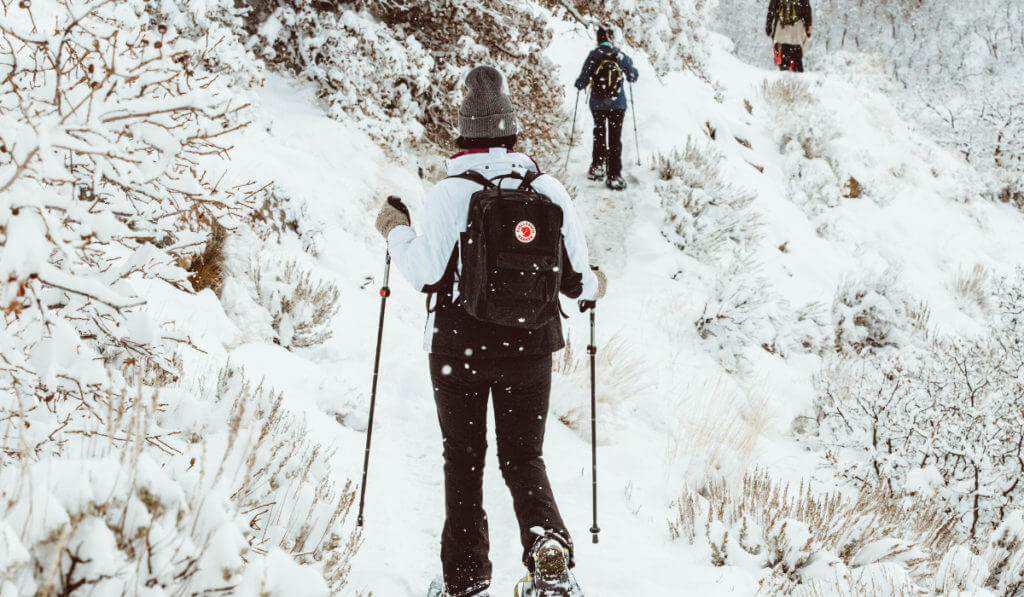 Head Out of the City to Explore a Hidden Gem
Nowhere does winter charm quite like a small and sleepy little town. In under three hours, you can step foot in the gorgeous town of Phoenicia, NY, for window shopping, mountain views, lovely neighborhood strolls and classic small-town dining. It's the perfect way to escape skyscrapers and packed streets for somewhere that moves at a slightly slower pace. It may be freezing, but don't let that maroon you in your apartment. It's time to venture away from your couch and upgrade your weekend!
If you need help with recommendations, trip plans or escaping the city, reach out to our team! We'll save you a seat on one of our many New York day trips.
Bonus: Best NYC Winter Activities
New York City transforms into a magical winter wonderland during the colder months, offering a plethora of activities to enjoy. Here are some exciting things to do in NYC in the winter:
Ice Skating
Lace up your skates and glide across iconic ice skating rinks, such as Rockefeller Center, Central Park's Wollman Rink, or Bryant Park's Winter Village. Enjoy the festive ambiance, twinkling lights, and the joy of skating against the backdrop of city landmarks.
Visit Holiday Markets
Explore the charming holiday markets scattered throughout the city, such as the Union Square Holiday Market, Bryant Park Winter Village, or Grand Central Holiday Fair. Browse unique gifts, sample delicious treats, and soak up the festive atmosphere.
Enjoy Broadway Shows
Take advantage of the world-class theater scene and catch a Broadway show. From classic musicals to new productions, there's a show for every taste. Warm up inside a theater and be entertained by top-notch performances.
Visit Museums and Galleries
NYC is home to a wealth of world-renowned museums and galleries. Spend a winter day exploring iconic institutions like the Metropolitan Museum of Art, the Museum of Modern Art (MoMA), or the Guggenheim Museum. Delve into art, culture, and history while staying cozy indoors.
Indulge in Hot Chocolate
Warm up with a cup of decadent hot chocolate from one of NYC's renowned chocolatiers. Whether it's a classic hot cocoa or an inventive flavor combination, sipping hot chocolate is the perfect way to combat the winter chill.
Experience Times Square on New Year's Eve
Join the excitement and witness the iconic Times Square Ball Drop on New Year's Eve. Be part of the thrilling countdown and watch the dazzling display of lights and confetti as the city welcomes the new year.
Explore Central Park
Central Park is a picturesque oasis in the heart of the city, offering winter delights. Take a stroll through snow-covered pathways, go sledding on designated hills, or enjoy a horse-drawn carriage ride through the park's enchanting landscapes.
Attend Winter Festivals and Events
NYC hosts a variety of winter festivals and events. From the Winter Jazzfest to the Lunar New Year Parade, there's always something happening. Embrace the city's cultural diversity and join in the celebrations.
Visit the Top of the Rock
Take an elevator ride to the Top of the Rock Observation Deck at Rockefeller Center. Marvel at breathtaking panoramic views of the city's skyline, adorned with winter lights and decorations.
Take a Winter Cruise
Hop on a sightseeing cruise around Manhattan, offering stunning views of the city's skyline and famous landmarks. Cruises often have heated interiors, allowing you to enjoy the sights while staying warm and comfortable.
Attend Sporting Events
Catch a thrilling basketball game at Madison Square Garden or cheer on the New York Rangers at a hockey game. Experience the energy and excitement of live sports in the city's iconic arenas.