Discover Iceland Travel Guide

Iceland. Land of the North. Land of the Vikings. Land of hot springs, volcanoes and cold winds. Land of Tourism?
Yes! Following the economic crash in 2008 and the eruption of the volcano Eyjafjallajökull in 2010 Iceland invested in their tourism industry and have quickly become one of the most popular travel destinations in the world. With the help of Game of Thrones, natural wonders galore and geographical convenience from both Europe and the US, this industry has lifted the nation and allowed for some incredible opportunities for those lucky enough to visit.
Iceland is bigger than you think, and could take many visits to explore in it's entirety. Furthermore, the experience itself varies so wildly depending on what time of year you visit. In winter you only have 4 hours of daylight and in the summer a whopping 20 hours! This guide is meant to help you dip your feet in the pool (or hot spring), with recommendations for the perfect first trip to Iceland on a budget.
What to Pack:
No matter what time of year it is, Iceland's weather can be wild and variable. It's on the edge of the earth after all! Here are a couple packing suggestions:
Layers: You will be very happy to have more as opposed to less. Be prepared for variable temperatures, and check weather online before your visit!
Raincoat: Another must. Iceland can be quite rainy or snowy. It's good to have a raincoat or other synthetic material to keep you dry.
Boots: If you're venturing outside of the city, you'll want these. The ground can be muddy, rocky and snowy. Make sure you are kind to your feet.
How to get there:
Keflavik airport is the main hub for all travel coming in and out of Iceland. Over the years the number of airlines running here has increased, but you'll find most options from Iceland's two largest carries:
Icelandair: Icelandair has been running for years and will give you a standard international flights experience. Not cheap but complete with amenities.
WOW: WOW is the new player in airfare. Rapidly expanding, WOW offers very cheap flights with bare amenities making it a great budget airline. Iceland is very expensive so we choose WOW for airfare because while they aren't flashy, they can help get you amazing rates and save some money getting to Iceland. Here a couple things to be aware of with WOW
Only a small carry-on is included. Any additional baggage costs extra, so the key is to pack strategically and bring only what you need! Sharing a checked bag with your travel mate is a good idea.

Seat selection is also an extra fee although not too expensive. Keep in mind flights from the east coast are generally only 5.5 hours to Iceland which is not too long to be separated from your travelling mate.

Amenities are limited. Food and water cost extra on WOW and they don't offer entertainment so come prepared! Bring a snack, a book, or your laptop to stay entertained.
Arrival
Once you arrive in Keflavik you'll notice something peculiar. It's very early in the morning! That's because most flights from the US to Iceland are overnight, so that with the time change you arrive early in the morning. Your hotel check-in is at 2pm, but you've arrived at 5am so what do you do? Check out our top recommendations for maximizing your time upon arrival:
Keflavik.

The airport is gorgeous. Nicer than most malls, there is a lot to do here to help for final preparations for your trip. Enjoy breakfast at the airport, there are a plethora of options and all are available early in the morning. We recommend hitting up the duty-free store here (one of the few in the world available for arrivals). They tend to have great deals on alcohol and also sell sim cards. You can buy 1GB of data for roughly $20 which should cover your data for a week.
Blue Lagoon.

One of the most popular tourist destinations in Iceland, this is a great way to start your trip off with a bang! Buses depart Keflavik for the lagoon at 7:30am which gives you the perfect amount of time to grab your bags and breakfast beforehand. Make sure to book in advance as spots fill up quickly! You can purchase a towel at the lagoon for $5, but if you want any special add-ons (spa treatments, etc) make sure to book in advance! Baggage storage is only $5 per bag. Our package offers transportation and admittance. Hang out and relax at the Lagoon after a long flight, then hop on the bus (it runs hourly) which will take you right to the hotel when it is check-in time.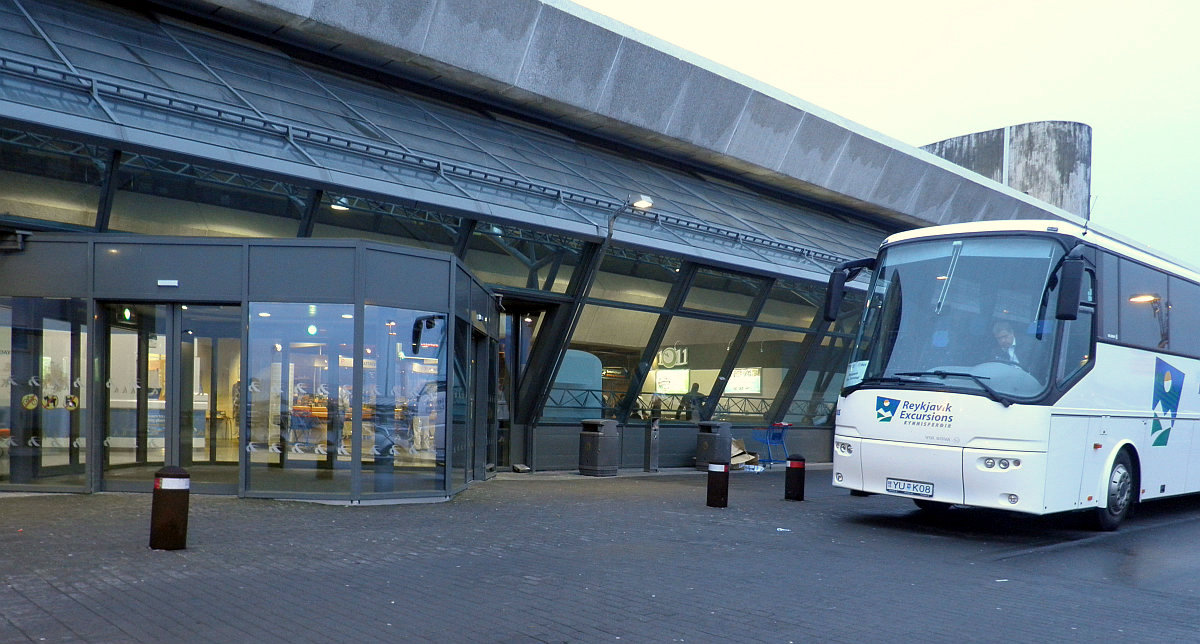 Where to Stay:
Iceland is increasing its hotel capacity to meet the demand of tourists coming in, however finding a room on short notice can be challenging and expensive to boot. Here are a couple of great budget hotel options for your stay in Iceland, depending on whether you are staying in Hafnarfjordur or Reykjavik:
Hafnarfjordur
T10 Hotel: On a quiet road, this hotel is small but quaint and charming. While not in the big city itself, T10 has a convenient location to the airport and also the city center. The number 1 bus is a 2-minute walk away and goes directly to the city center (20 minute ride) and costs 450 icelandic krona ($4.50). Cabs are a bit more pricey ($30-45) but we recommend taking the bus into the city and cabbing back to the T10.
Reykajvik
Hotel Cabin: Just a 20 minute walk from Laugavegur, Reykjavik's bustling hub for shops and restaurants, Cabin boasts a great price and a great location. We recommend a walk along the waterfront while staying here as well as a visit to Reykjavik's largest hot springs (more detail to follow).
Where to Eat:
Historically, the food of Iceland was based mostly on fish and potatoes. But don't let that fool you. There are a variety of great food options in both Reykjavik and Hafnarfjörður. Food in Iceland can be expensive, but you get what you pay for if you go big as the price difference between excellent food and average food is marginal. Also tipping is not necessary as the wage for Icelanders in the service industry is quite high. We've listed a few of our faves below on both the more expensive side and the cheaper/casual side.
Hafnarfjordur
Gamla Vínhúsið
If you're looking for a delicious and cozy meal with great ambiance, look no further. Gamla Vinhusid has it all, offering great steak and wine served in classic Icelandic style. Check out their site here. They also have a cool bar upstairs, this is a place where mostly locals go so it definitely gets you an authentic experience.
Entree price: $30-$40 pp
Tilveran
Another great fine dining option, and right across the street from Gamla Vinhusid. Tilveran specializes in soups and seafood and is also a favorite amongst locals. You can find out more about their restaurant here.
Entree price: $30-$40 pp
Hamborgarabúlla Tómasar
If you're looking for simple food, cheap pricing and convenience look no further. "Tommi's Burgers" has a plethora of locations in Iceland but one happens to be a 5 minute walk from the T10 hotel. It even doubles as a reasonably priced beer bar as well, so you can have a drink will you enjoy your burger.
Entree price: $10-$20 pp
Reykjavik
Coocoo's Nest
This place is a gem. Located in the old part of the city by the marina, Coocoo's Nest offers different specials depending on the day of the week and serves them up in a super cozy unique environment. From pizza to tacos to more, you can get a gourmet dinner here for a good price. And you'll feel like a local, what's better than that? Take a look at their site here.
Entree price: $15-$30 pp
Sægreifinn
Known as the "Sea Baron" this place is a must if you want to experience true Icelandic seafood. Fish and soup is their speciality, and the lobster soup is an absolute must! Try the dried fish as well if you're feeling adventurous, but make sure you use butter. Many Icelanders claim this as their favorite restaurant in town, so it is well worth a visit. Check out their site here.
Entree Price: $15-$30pp
Kol
If you're looking for fine dining look no further. Kol has fantastic seafood served with elegance and world-class ambiance. Looked right by the big church it's the perfect place to treat yourself while in Reykjavik. You can find more here.
Entree Price: $40-$50pp
Kaffibrennslan
If you're looking for coffee and a sandwich in a more casual setting, this is a good choice for you. Right on the main drag of shops Kaffibrennslan is the perfect place to stop while exploring the downtown area. You can find out more here.
Entree Price: $10-$20pp
Bæjarins Beztu Pylsur
The most famous hot dog place in all of Iceland. It once won best hotdog in Europe which is no joke. Go the small stand, order a dog with everything on it and enjoy. You can find more information here.
Entree Price: $10-$20pp
What to Do in Reykjavik:
For a small city, Reykjavik actually offers quite a lot in terms of bars and shopping. It's well worth spending a little time exploring the city.
Downtown
Reykjavik has a few landmarks to see like the Sun Voyager or Harpa, but the most impressive is definitely Hallgrímskirkja. An old church, it is the highest structure in all of Iceland and it is worth checking out the top to see a view of the city. The National and Saga museums are in Reykjavik as well for those history buff out there. Lasty it's worth checking out Laugavegur, where you'll find a myriad of shops and restaurants. It's a great place for a stroll, even when it's cold out!
Nightlife
Most nights of the week are fairly tame in Reykjavik, but on Friday and Saturday nights Icelanders go hard. If you're looking for a bar to go to for any night of the week we recommend Kaldi Bar, a favorite amongst locals with a great beer selection. For more excitement head to Pablo Discobar located right downtown. Another chic bar is Slippbarinn. If you're thinking of bar-hopping download the app Appy Hour. It gives you detailed happy hour deals right on your phone depending on where you are in Reykjavik.
What to Do in the Area:
Whether you're planning on booking some tours or renting a car, there are some great sights to be seen outside of the city. Iceland is vast and the possibilities endless, but here are a couple of locations within a day's drive that you should not miss.
The Golden Circle
An adventure to Iceland's national park is definitely in order when staying near Reykjavik. Just a short drive away, most tours will take you to 3 major tourist attractions. The first is the continental divide at Thingvellir National Park, the separation between the North American and European tectonic plates. The second stop is at Geysir, an impressive manifestation of Iceland's geothermic activity. And last but not least is Gullfoss, which is a massive and impressive waterfall. This route is definitely worth a visit.
The South Shore
A personal favorite of Team SA, we cannot recommend the South Shore highly enough. On the tour you'll visit Skogafoss, a powerful and large waterfall as well as Seljalandsfoss a more graceful waterfall that you can walk behind. The tour takes you all the way to the black sand beaches of Vik which boasts stunning vistas. You also get to see the Myrdalsjokull Glacier, which while receding rapidly is stunning to behold. The wild south coast is calling!
Snaefellsness
This Western Peninsula of Iceland offers some amazing scenery and landscapes. Mountains, rivers, waterfalls, lava fields, and craters all call Snaefellsness home. It has inspired many of the Icelandic sagas and has been described as "Iceland in a nutshell." Only a short drive from Reykjavik, Snaefellsness is worth a visit.
Hot Springs
One of the most crucially important amenities for Icelanders is access to hot springs. It is a cultural cornerstone for the island, with most locals going to the hot springs every week and many going every day. After checking out the Blue Lagoon, head to a local hot spring to see what the locals are doing, we have a few favorites:
Laugardalslaug
The largest hot spring located in Reykjavik, this is well worth a visit and is a short walk if you are staying at Hotel Cabin.
Suðurbæjarlaug
This hot spring is well-situated if you are staying near the T10 Hotel and is a great place to relax after a long day of exploring.
Verdict?
Ultimately, what's been presented here is merely the tip of the Iceberg (or Iceland). There is so much you can do in this wonderful place and not just on the whole island but within a day's drive of Reykjavik. Activities like horseback riding, snowmobiling and whale watching are some popular examples we didn't even have time to go into….which is amazing. Winter offers the Northern Lights, summer offers 22 hour days meaning that no matter what time of year you go, you can see something spectacular. Pack your bags and see what all of the fuss is about…believe us it's worth it!